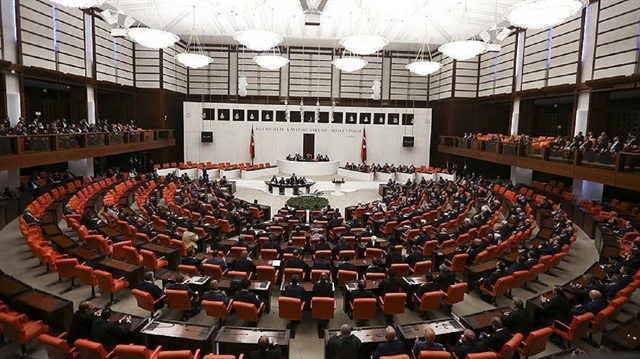 The parliament will hold an extraordinary session on Saturday to debate the extension of Turkish military's operation in northern Iraq and Syria, according to ruling Justice and Development (AK) Party's parliamentary group deputy chairman.
"The general assembly of Turkish Parliament will hold an extraordinary session on Sept. 23 at 1600 [4 p.m. local time] to debate the extension of Prime Ministry's motion that enables the government to conduct cross-border operations in northern Iraq and Syria," Mustafa Elitas said.
The motion had previously allowed the Turkish military to carry out cross-border operations from Oct. 2, 2016 until Oct. 31, 2017.
The deputies would either debate the extension of the same motion or they would bring a new motion enabling the Turkish army to conduct a cross-border operation in northern Iraq and Syria.
The opposition Nationalist Movement Party's (MHP) parliamentary deputy group chairman told Anadolu Agency that his party will support the motion.
"The MHP will vote Yes to the motion with all its deputies," Erkan Akcay said, adding that this would be a strong voice form the parliament against the Kurdish Regional Government (KRG)'s agenda to hold a referendum on independence.
The decision to hold Turkish parliament's extraordinary session came after the KRG refused to cancel the planned referendum on Sept. 25.
The non-binding referendum will see residents of Kurdish-controlled areas of northern Iraq vote on full independence from Baghdad.
The U.S. and UN have also spoken out against the poll, saying it would distract from operations against Daesh and lead to greater regional instability.
Baghdad has threatened to intervene militarily if the vote results in violence. KRG President Masoud Barzani has said a Yes vote would not mean a declaration of independence but would lead to negotiations with the Iraqi government.
6 years ago