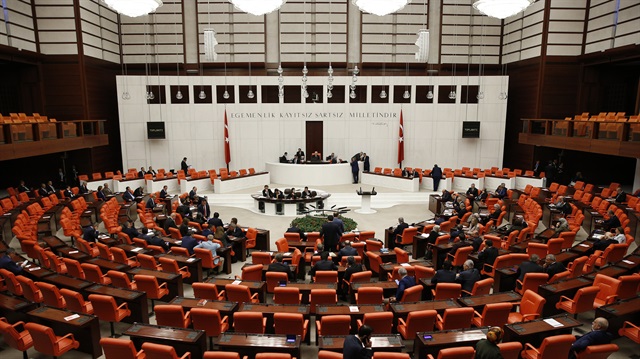 The parliament on Friday ratified the bill calling for early elections in Turkey on June 24, with lawmakers from ruling and opposition parties supporting the move.
A total of 386 lawmakers from the ruling Justice and Development (AK) Party, main opposition Republican People's Party (CHP) and opposition Nationalist Movement Party (MHP) voted in favor of the bill.
Speaking to lawmakers in the general assembly, Prime Minister Binali Yildirim said: "I feel honored to be the last prime minister of the Turkish Republic."
Yildirim rejected claims the elections were being held too soon.
"Political parties both in power and opposition should be ready for early elections at any moment," he said.
The prime minister said AK Party's presidential nominee is "our President Recep Tayyip Erdogan", "the man of the nation".
MHP deputy group chairman said June 24 will reflect the country's national will.
Erkan Akcay said the parliament's decision for early elections is "a snap for those who are annoyed with Turkey's Operation Olive Branch, Operation Euphrates Shield and Al-Bab operation".
Akcay said: "This decision is a snap for those who get annoyed with fighting against FETO and PKK."
Turkey on Jan. 20 launched Operation Olive Branch to remove YPG/PKK and Daesh terrorists from Syria's northwestern Afrin.
On March 18, Turkish troops and Free Syrian Army liberated the Afrin district center.
HDP, CHP reactions
FETO and its U.S.-based leader Gulen orchestrated the defeated coup on July 15, 2016, which left 250 people martyred and nearly 2,200 injured.
Peoples' Democratic Party (HDP) deputy group chairwoman said her party was not against early elections.
In her remarks before the voting, Filiz Kerestecioglu said: "What do we want for this country? What kind of country do we want?
"We are not against elections, but we are against imposition. June 24 will be the date to decide that," she said.
CHP deputy group chairman said it was incorrect to push Turkey into early elections under the state of emergency.
"Mr. Erdogan and [MHP Leader] Mr. [Devlet] Bahceli have committed political euthanasia," Engin Altay said, claiming they would oust the government on June 24.
Erdogan announced on Wednesday a plan to hold presidential and parliamentary elections on June 24, over a year ahead of schedule.
On April 16, 2017, Turkey held a referendum on a constitutional reform in which the majority of voters pronounced themselves in favor of an 18-article bill switching a parliamentary system into a presidential one.
Under the constitutional reform, the number of lawmakers in the parliament will rise to 600 from 550, the presidential and the parliamentary elections will be held after every five years and the elected president will not be bound to cut ties with his or her party.
The political parties or alliance which received at least five percent of vote in last elections or 100,000 voters could nominate their candidate for the presidency.
In the new system, the president will have executive power and the title of "head of state", representing Turkey, the unity of Turkish people and assuring the implementation of the constitution and the harmonious execution of state bodies.