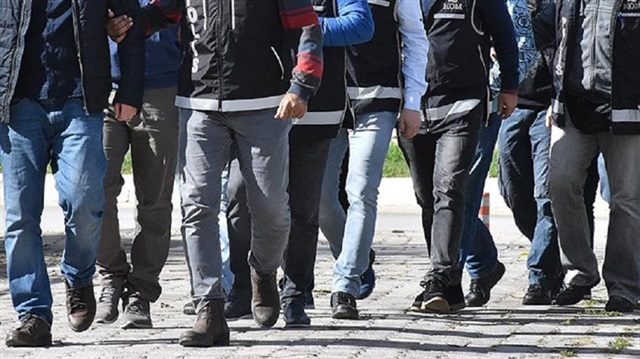 Turkish police on Saturday detained dozens of suspects over alleged links to the Fetullah Terrorist Organization (FETÖ), security sources said.
In an Istanbul-based operation which was conducted across nine provinces, police arrested at least 17 people over suspected links with the terror group, said the sources who spoke on condition of anonymity due to restrictions on talking to the media.
FETÖ and its U.S.-based leader Fetullah Gülen orchestrated the defeated coup attempt of July 15, 2016, which left 250 people martyred and nearly 2,200 injured.
The arrests came after the Istanbul Chief Public Prosecutor's Office issued arrest warrants for 36 FETÖ suspects, including academics, journalists, and former police officers.
The suspects were wanted by the police for using ByLock -- an encrypted mobile phone application used by FETÖ members to communicate during and after the defeated July 16, 2016 coup, the source added.
In another operation in Istanbul, Gülen's fugitive nephew Tavus Bin Keysan Gülen was also apprehended on charges of having links to the terror group.
Nabbed during a raid on a house in Umraniye district in the Asian part of the city, Gülen's nephew would be transferred to northwestern province of Sakarya, the security sources said.
In central province of Konya, police apprehended two more suspects following Thursday's arrest warrants for 70 FETÖ suspects, including 58 former and active soldiers, the sources said.
The source said 64 suspects so far had been arrested during simultaneous operations across 27 provinces.
In central Yozgat province, security forces also arrested two more people including a military officer on terror charges, the local governor's office said in a statement.
Both of the suspects were remanded in custody, the statement said.
FETÖ is behind a long-running campaign to overthrow the state through the infiltration of Turkish institutions, particularly the military, police and judiciary.