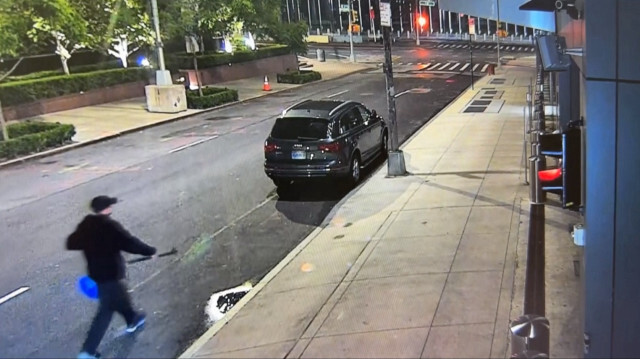 A man with an iron crowbar brakes windows on the lower floor of the building of Turkish House (also called Turkevi Center) in New York, United States on May 22, 2023.
Türkiye's president on Monday called on the US to find the "terrorist" who attacked the Turkish House in New York and "do what is necessary."
"In Europe, the (terrorist group) PKK has seen that things are getting worse, (and) they have started to attack the voters. They probably say that these voters are in favor of the People's Alliance. That's why they attack them.
"What is more, they have attacked the Turkish House in America, just across from the United Nations (building) in the US, and broke the windows. Why? You were democrat. What do you gain by attacking the Turkish House, breaking the windows?" said Recep Tayyip Erdogan.
"Now, aren't we going to tell the American authorities and security forces, 'You need to find this terrorist quickly, and you need to do what is necessary.' I wonder if a similar incident happened in Türkiye, how would you look at it?" he told an event in Istanbul.
The Turkish House, he said, is entrusted to US authorities there.
"You need to find this terrorist who broke the windows of the Turkish House with a crowbar."
In its more than 35-year terror campaign against Türkiye, the PKK – listed as a terrorist organization by Türkiye, the US and EU – has been responsible for the deaths of over 40,000 people, including women, children and infants.
The Turkish House in New York, a dedicated building for diplomatic missions and cultural events, was attacked overnight, in the early hours of Monday.
The assailant smashed the windows of the building at 3.14 a.m. local time, Turkish Consul General in New York Reyhan Ozgur told Anadolu.
He said no one was hurt but 12 windows and the doors of the building, which opened in 2021, were damaged.
Ozgur also said the assailant, who has yet to be identified, left a small crowbar at the scene.
The skyscraper was cordoned off by the New York Police Department and the incident is being investigated.
The attack has not impacted the voting in Türkiye's presidential election runoff for Turkish nationals, who continue to cast their votes at the Turkish House, Ozgur added.
9 days ago