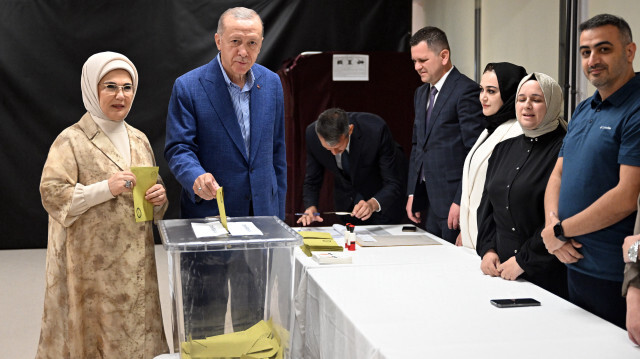 Türkiye's President Recep Tayyip Erdogan cast his vote in the country's runoff election on Sunday.
This is the first presidential runoff in Türkiye's democratic history, Erdogan told reporters after casting his vote in Istanbul's Uskudar district.
Erdogan urged all citizens to cast their votes adding voter turnout was close to 90% in the May 14 elections, a rare trend globally.
Voting began at 8 a.m. local time (0500GMT).
More than 64.1 million people are expected to vote in the runoff, including over 1.92 million overseas voters who already cast their ballots and 4.9 million first-time voters.
A total of 191,885 ballot boxes have been set up for voters in the country.
Voters will choose between Erdogan, who is seeking reelection, and the main opposition candidate Kemal Kilicdaroglu.
Overseas voting was held until May 24. As for customs gates, voters will be able to cast their ballots until domestic polling stations close at 5 p.m. local time (1400GMT) on Sunday.
Millions of voters went to the polls on May 14 to elect the country's president and members of its 600-seat parliament.
Erdogan's People's Alliance won a majority against the opposition's six-party Nation alliance in parliament.
But the presidential race will be decided in Sunday's runoff since no candidate could get the required 50% in the first round, although Erdogan was in the lead with 49.52%.​​​​​​​
4 months ago