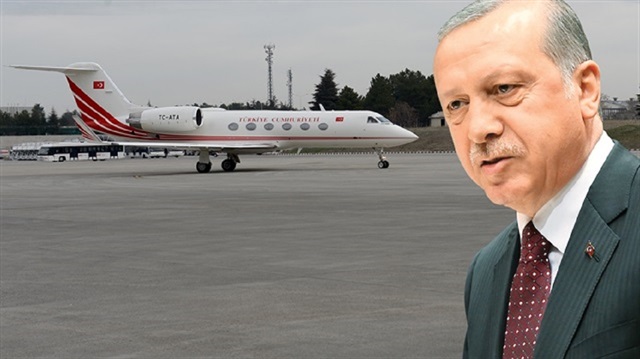 An F-16 fighter was tracking the Turkish President's luxury jet TC-ATA on its radar on the night of July 15's abortive coup attempt. But, the F-16's pilot suddenly recognized his jet was running out of fuel. That was the moment that saved Erdoğan's life and sealed the military uprising's fate.
Turkey's president Recep Tayyip Erdoğan narrowly escaped death in the air on his way to Istanbul after evading death by minutes when he left the hotel before arrival of the assassination squad, linked to the Fetullah Gülen terrorist organization to kill seize or kill him.
President's Gulf-stream type G450 plane, TC-ATA, using Turkish Airlines, code took off at 1:43 a.m. from Dalaman airport near the province of Muğla, where he was spending summer vacation with his family in the resort town of Marmaris.
The plane was originally bound for İstanbul's Atatürk airport, but temporarily changed its route to the western city of İzmir not to put the city's aerial operations at risk because F-16 jets, used by coup plotters, had taken off from Akıncı 4th Main Jet Base and were flying extremely low over İstanbul.
After the high-ranking military officers, loyal to the state, ensured security in the air traffic, the plane, touring over Bandırma city, headed to Istanbul, the President's main destination. Meanwhile, an F-16, used by a FETÖ member, harassed Erdoğan's plane, while it was in the air and en route to İstanbul.
The jet locked its radar on TC-ATA, but failed to strike, as its pilot recognized he was out of fuel. The president's plane reached its destination undamaged before dawn on Saturday as the F-16 jet was supposed to change its route to ask fuel from its tanker aircraft.
After the abortive coup bid, Turkish President said that the coup plotters had strike places around the coastal town of Marmaris, where he had been staying shortly after he left. 25 pro-coup soldiers descended from three military helicopters trying to catch him at the hotel where he had been resting in his holiday. Prime Minister Binali Yildirim was also directly targeted in Istanbul during the coup plot but managed to escape.