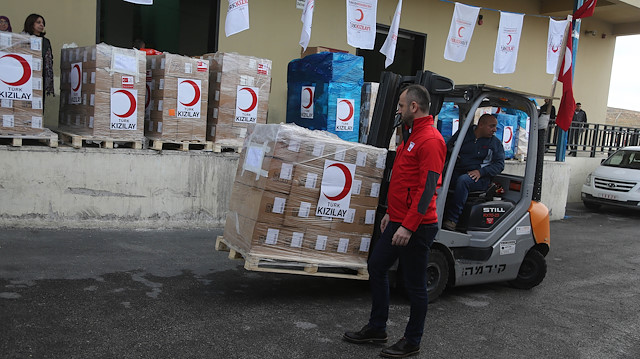 Major international aid groups on Thursday met in Istanbul to discuss ways to solve global humanitarian crises.
The Kizilay Talks hosted by the Turkish Red Crescent, or Kizilay, on the theme "Towards a More Collaborative Future," brought together officials from the International Federation of Red Cross and Red Crescent Societies, International Committee of the Red Cross, Doctors Without Borders, and the UN Refugee Agency UNHCR.
Speaking at the event's opening, Kerem Kinik, head of the Turkish Red Crescent and vice president of the International Federation of Red Cross and Red Crescent Societies, said that 140 million people across the world are in need.
"The joint target of the UN and other NGOs was reaching 100 million people. We say that we won't leave anybody behind, but unfortunately, we're leaving millions of people behind," Kinik said.
The main principle of the meeting is to reach a common understanding to make the world more livable and to find innovative and solution-based approaches, Kinik.
Nicholas Hawton, a diplomatic advisor to the Red Cross, hailed the Turkish Red Crescent's humanitarian efforts, saying: "You earned the respect of the whole international community."
"My first job today is to thank you Kizilay for the significant and long contribution to humanitarian work in Turkey and beyond and the important role you played in our movement," Hawton said.
The Turkish Red Crescent is the largest humanitarian organization in Turkey, with an international network to help other nations in need.
Ecosystem models
In his speech, Hawton also underlined the importance of humanitarian ecosystem models for global humanitarian responses to crises.
"The ecosystem model encourages four things; diversity, partnership, local action, and people-centered action, which are particularly important for our movement," he said.
"The diversity model of the humanitarian ecosystem desires and encourages a diversity of humanitarian actors and responses.
"The ecosystem model is also respectful of local humanitarian action, not biased in favor of international organizations," he said.
Hawton said different organizations need to cooperate to keep living systems alive.
"A model global humanitarian response prioritizes the needs of the whole population and not the needs of humanitarian organizations.
"I think the Red Cross and Red Crescent movement knows deeply that the ecosystem model is the best approach for global humanitarian response cooperation," Hawton said.
Turkey hosts more Syrian refugees than any other country in the world. The country has spent more than $32 billion from its own national resources to help and shelter refugees since the beginning of the Syrian civil war.