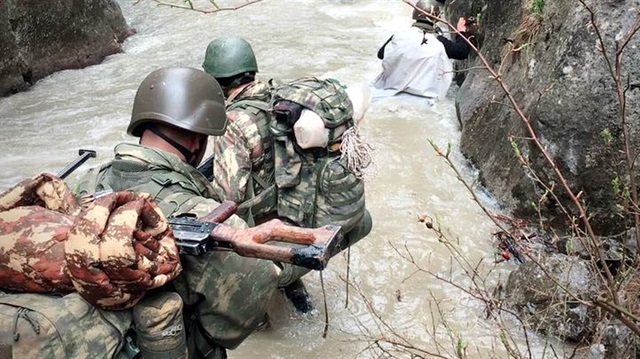 Forty-five terrorists were neutralized in counterterrorism operations targeting the Kurdistan Worker's Party (PKK), the Turkish Armed Forces said on Friday.
The operations were conducted in Turkey's provinces of Şırnak, Hakkari, Diyarbakır, Batman, Mardin and Bitlis between April 14-20.
Five Turkish soldiers were martyred in the operations and five others were wounded.
Security forces seized 13 infantry rifles, one machine gun, five pistols, one grenade launcher and 17 hand grenades, as well as 34 improvised explosive devices (IEDs), 1,250 kilograms of ammonium nitrate and various types of ammunition.
Eight shelters and caves used by the terrorists were neutralized and four vehicles with twin license plates to be used for bomb attacks were seized.
As a result of the measures against drug production, trade and smuggling, which are the most significant financial resources of the PKK, 9,950 kilograms of granulated marijuana, 650 kilograms of powdered marijuana, 12.5 kilograms of heroin and 55,240 packs of smuggled cigarettes were seized.
In border control operations, 2,983 people who were trying to cross illegally were captured.