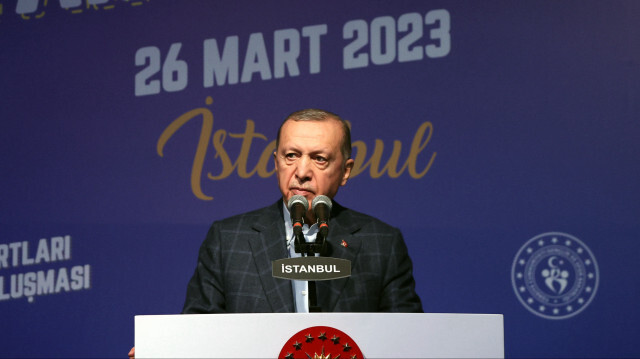 Turkish president Recep Tayyip Erdogan
The Turkish president on Sunday vowed to rebuild the country's southern region in the wake of powerful earthquakes last month that claimed the lives of more than 50,000 people.
"Our aim is to raise up the earthquake zone," Recep Tayyip Erdogan said after a dinner with earthquake victims in Istanbul, a special iftar fast-breaking meal for the Muslim holy month of Ramadan.
Türkiye plans to construct enough buildings in a year to meet the needs of the quake victims, Erdogan said, adding that 319,000 houses would be built in the first year and 650,000 in total.
He also promised to heal the wounds of the victims.
On Feb. 6, magnitude 7.7 and 7.6 quakes struck 11 Turkish provinces – Adana, Adiyaman, Diyarbakir, Elazig, Hatay, Gaziantep, Kahramanmaras, Kilis, Malatya, Osmaniye, and Sanliurfa.
More than 13.5 million people in Türkiye have been affected by the quakes, as well as many others in northern Syria.
2 ay önce