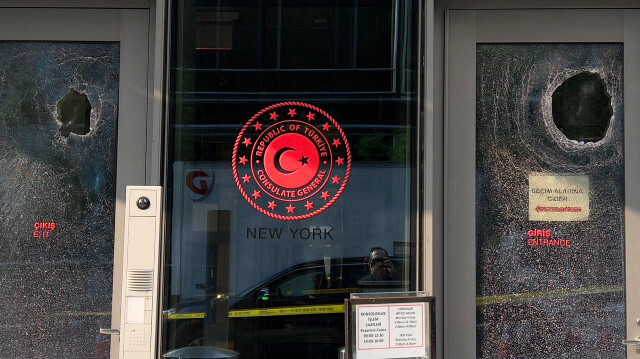 Türkiye expects immediate identification of the perpetrators of the attack on the Turkish House in New York, the country's dedicated building for diplomatic missions and cultural activities, located across from UN headquarters, the Turkish foreign minister said Monday.
"Today, a heinous attack was carried out against #TurkishHouse in New York," Mevlut Cavusoglu said on Twitter.
"We expect the US to immediately identify the perpetrators amp; provide necessary protection to ensure the safety of our diplomatic missions," he added.
"My thoughts are with my colleagues working relentlessly abroad for Türkiye, including this election period," Cavusoglu said.
The Turkish House in New York was attacked overnight, in the early hours of Monday.
The assailant smashed the windows of the building at 3.14 a.m. local time, Turkish Consul General in New York Reyhan Ozgur told Anadolu.
Ozgur said no one was hurt but 12 windows and the doors of the building were damaged.
He said the assailant, who has yet to be identified, left a small crowbar at the scene.
The dedicated skyscraper, which opened in September 2012, was cordoned off by the New York Police Department and an investigation was launched into the incident.
The incident has not impacted the voting in Türkiye's presidential election runoff for Turkish nationals in New York who are currently casting their votes at the Turkish House, Ozgur added.
9 days ago