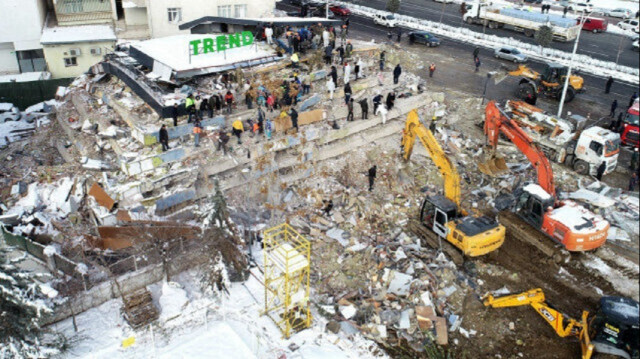 The 7.7 magnitude earthquake in Türkiye has been recorded as the worst inland shallow earthquake since 2000, according to a prominent seismologist.
Shinji Toda told Anadolu that Türkiye suffered the worst "inland shallow earthquake" this century, claiming the lives of over 8,500 people and injuring some 50,000 others, according to the latest official figures.
"I have checked the very large inland shallow earthquakes that devastated cities and villages around the globe since 2000. I have found that five earthquakes, which occur on average every five years, amount to 7.8 magnitude shallow inland huge earthquakes," he told Anadolu.
While most of the inland earthquake occurred at depths of 10 or 15 kilometers, "in case of Türkiye, the depth of the epicenter is 18 kilometers," or about 11.2 miles, he added.
"I am afraid to say that the earthquake in Türkiye is the worst," said Toda, a professor at the International Research Institute of Disaster Science at Japan's Tohoku University who specializes in earthquake disaster prevention.
At least 8,574 people were killed and 49,133 others injured in Türkiye after the two quakes on Monday, which were also felt in nearby countries, including Syria and Lebanon.
A total of 6,444 buildings collapsed due to the 7.7 and 7.6 magnitude quakes that occurred in the space of less than 10 hours.
"The disaster can be determined by the population exposure and the vulnerability as well as the earthquake size," said Toda.
He added that the amount of energy from the Turkish earthquake was 16 times larger than the 1995 Kobe 7.3 magnitude earthquake in Japan's southern Hyogo province, and the Kumamoto earthquakes, which were a series of earthquakes, including a magnitude 7.0 mainshock, which struck the Kumamoto province in Kyushu, Japan in 2016.
Thousands of people were killed in the Kobe quake.
Toda mentioned a similar earthquake in southern New Zealand in 2016, but it was off the coast and had a minor impact on public life in the country.
Toda noted the length of the fault zone where the earthquake occurred is long.
"I think the length of the fault is to about 150 to 200 kilometers," or 93-124 miles, he estimated.
"This means that the disaster area will be widely distributed," said Toda, adding the epicenter of the earthquake was not deep.
"And because the fault line is long," he added.
The earthquakes centered in the Kahramanmaras province struck 10 provinces and affected more than 13 million people.
Over 95,000 search and rescue teams are currently working in the field, according to the Disaster and Emergency Management Presidency (AFAD).
Türkiye is observing seven days of national mourning after the devastating quakes.
After the quakes, condolences poured in from around the world expressing solidarity with Türkiye, with many countries sending rescue teams and aid.
2 ay önce