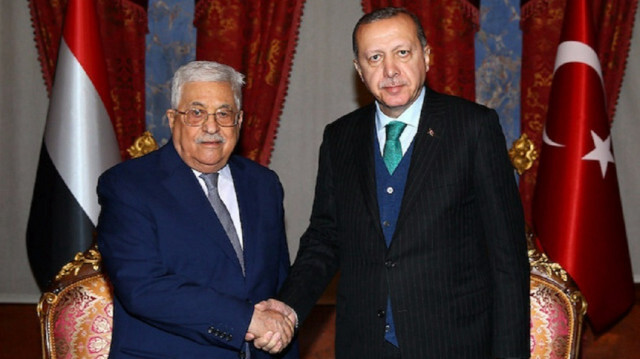 Turkish President Recep Tayyip Erdogan (R) and his Palestinian counterpart Mahmoud Abbas (L)
Türkiye will continue providing "all kinds" of support to Palestine, President Recep Tayyip Erdogan on Tuesday told his Palestinian counterpart over the phone.
In a phone call with Mahmoud Abbas, Erdogan also thanked him for solidarity the Palestinians displayed following the Feb. 6 deadly earthquakes in southern Türkiye, according to Türkiye's Communications Directorate.
The leaders exchanged greetings on the occasion of the Muslim holy month of Ramadan.
Türkiye supports a negotiated settlement to the Israeli-Palestinian conflict on the basis of the UN Security Council resolutions that would ensure two states living side by side within secure and recognized borders.
2 ay önce