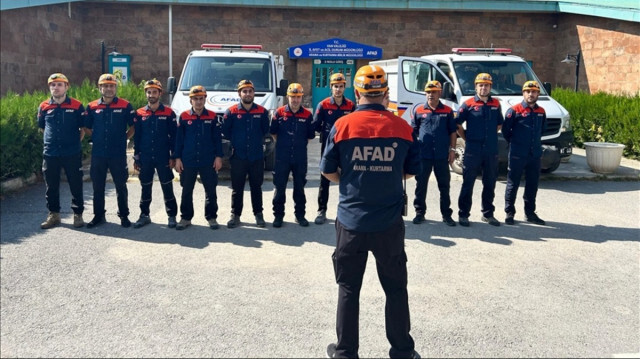 The Turkish disaster management agency, which was the first aid team to arrive in Libya to help people in the aftermath of devastating floods, has taken on the responsibility of coordinating with other foreign countries' teams in the flood-hit eastern Derna city.
Disaster and Emergency Management (AFAD) Vice President Hamza Tasdelen told Anadolu on Sunday that the Turkish team arrived in Derna on Tuesday aboard three National Defense Ministry military planes.
As a first step, he noted that they conducted a quick scan of the field, partitioning it accordingly, and establishing a management center to ensure coordination.
Noting that the first Turkish team was made up of 168 members, Tasdelen said "We are coordinating the foreign delegations that arrive according to the International Search and Rescue Advisory Group (INSARAG) standards."
"When international delegations arrive, they register at the management center, and we distribute them to the designated areas, and every evening, whoever carried out whatever activity coordinates it, and we report the results to the UN INSTARAG OCHA office in Geneva," he explained, referring to the International Search and Rescue Advisory Group (INSTARAG), which is a response support branch of the Office for the Coordination of Humanitarian Affairs (OCHA).
Tasdelen said the devastated city has been divided into working areas to make tasks easier for the field teams.
"There is a possibility of people coming out of the creek bed and the sea, and there is a lot of devastation due to the destruction of the dams," he added.
"Search and rescue had to be carried out among the wrecks as well. Therefore, we have divided the city into seven distinct work areas.
"We have also divided these areas into sub-sections. We show each incoming team where they will work, and we, as the Turkish team, fill in all the gaps," he said.
The official emphasized that teams from Italy, Spain, Tunisia, Algeria, Egypt, the United Arab Emirates (UAE), and Jordan have also arrived, but the Turkish team has more personnel and was the first to arrive in the city to assist people affected by massive floods.
The official said after the 168-member first crew arrived in the city another team arrived on two vessels, and that over 500 personnel are now serving in Derna, with a third vessel of personnel on its way.
The installation of the field hospital, which arrived by ship, is currently underway and will be operational within two or three days, he said.
- Search and rescue efforts
Referring to the social media post claiming that the Spanish team found someone alive on Saturday, Tasdelen said it is untrue, and that only the Tunisian team was able to pull one person alive three days ago.
Stating that Türkiye's helping hand will be on the side of the Libyan people as it is everywhere in the world, he underlined that they will try to fulfill whatever is needed in Derna until the end with the instructions of President Recep Tayyip Erdogan.
#
Türkiye's disaster agency
8 gün önce