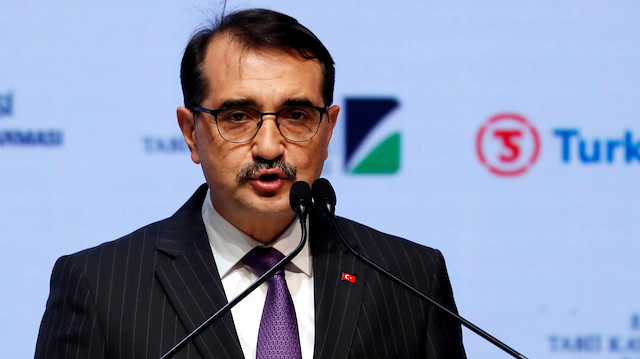 Turkish Minister of Energy Fatih Dönmez
The TurkStream natural gas pipeline project will help Turkey's aim of becoming a natural gas trading hub, according to Fatih Dönmez, Turkey's energy and natural resources minister on Monday.
Dönmez, speaking at the commemoration ceremony for the completion of the project's sea section with the participation of Turkey's President Recep Tayyip Erdogan and his Russian counterpart Vladimir Putin, hailed the project as the opening of a new page for Turkey's energy market.
Dönmez said that Turkey's aim to become an energy hub country is supported through strong political will and stability in the country.
"Turkey aims to become an energy center, where buyers and sellers meet and where prices are determined," he said adding that the country is taking important steps for this goal via the TurkStream project, which he said would be a uniting factor in the countries where the gas is transferred.
He asserted that Turkey has acted as a good partner and neighbor in its immediate region in projects of mutual interest to provide secure energy supplies as in the TurkStream project.
Turkey is the fourth biggest natural gas market in Europe with an annual consumption of 55 billion cubic meters. The country also has a greater capacity for gas storage and LNG processing, which will help Europe's gas supply in the future, he said.
"The TurkStream natural gas pipeline project is the most vivid example of our vision [Turkey's aim to become a gas hub]. Gas flow from TurkStream will start in 2019 and this will eliminate risks on transmission and transfer of natural gas," Dönmez said.
The Minister said Turkey will be the first recipient of Russian gas through the TurkStream pipeline, "In total there will be around 32 billion cubic meters of gas flow, half of which will be consumed in Turkey. Turkey will have a major role in the region especially at peak times," he said.
TurkStream consists of two lines from Russia to Turkey, with a total capacity of 31.5 billion cubic meters.
The first line will carry 15.75 billion cubic meters of gas to Turkey and the second line will transfer the gas to Europe via Turkey.
5 years ago