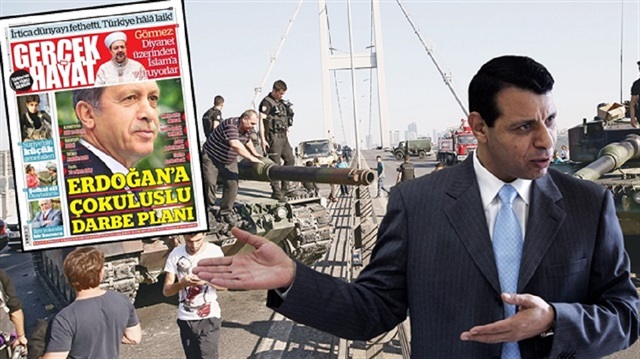 The United Arab Emirates have collaborated with coup plotters in Turkey before the abortive bid was launched, using the Fatah strongman, Mohammed Dahlan, as a go-between with the U.S. -based scholar, Fetullah Gülen, who is accused of fomenting the plot to unseat President Recep Tayyip Erdoğan, a foreign leader writer for the Guardian said.

"Dahlan has allegedly financed the plotters in Turkey and communicated to Gülen through a Palestinian businessman in the States weeks before the coup. This businessman's, close to Dahlan, identity is known by a Turkish intelligence service," David Hearts, currently editor of Middle East Eye, said in his exclusive report.

According to Hearts, Dahlan was forced to leave the UAE after the coup failed to reach its aim, and he is now believed to be in Egypt. Hearts, quoting some sources, spoke to MEE, said the UAE, then launched an operation to distance itself from Dahlan and subsequently supported Erdogan as the legitimate president of Turkey.

"Coup plot" makes headline in the Turkish magazine months ago

Turkey's weekly magazine Gerçek Hayat shed a light on UAE's malicious attempt to finance the plotters through Dahlan in its cover story that made the headline in its January issue. In its story, Gerçek Hayat has argued a multi-national plan which aims to unseat Erdoğan, presumably led by the the United Arab Emirates (UAE) with the support of Russia and Iran.

"There has been a plan to oust President Erdoğan in a coup plot which is almost the same as the one that toppled Mohammed Mursi in Egypt," according to information leaked from UAE political lobbies. A smear campaign will be orchestrated in the first stage of the coup plot, also backed by Jordanian intelligence service. A total of 70 million US dollars have been provided to support this coup attempt…" the story argued.