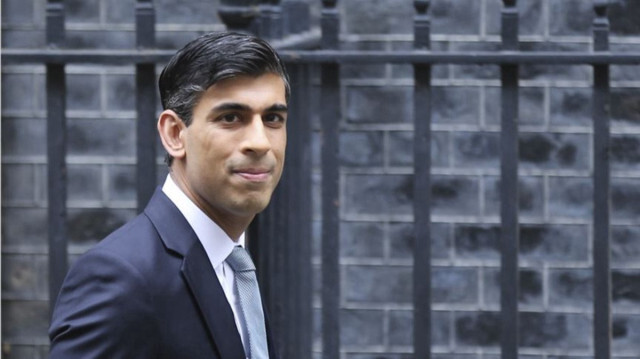 British Prime Minister Rishi Sunak
British Prime Minister Rishi Sunak announced a series of changes Wednesday in the country's key net zero carbon emission target by 2050, including delaying a ban on the sale of new petrol and diesel cars.
Speaking at a news conference at his office in London, Sunak set out his new approach to green policies after it was reported earlier that he would consider weakening some of the country's green commitments.
Following the media reports, he issued a statement late Tuesday, reaffirming his government's commitment to reach net zero carbon emissions by 2050, but in a "more proportionate way."
During his speech, Sunak reiterated his commitment, pointing out to reach that target "in a realistic manner."
"When our share of global emissions is less than 1%, how can it be right that British citizens are now being told to sacrifice even more than others?" he said.
His announcement includes delaying a ban on the sale of new petrol and diesel cars until 2035 after setting out to ban them by 2030 previously.
Pointing to a similar practice in countries like Germany, France and Italy, the British premier added that even after 2035 people will still be able to buy and sell them second-hand.
- Sunak to not ban new oil, gas in North Sea
"I'm confident that we can adopt a more pragmatic, proportionate and realistic approach to meeting Net Zero that eases the burdens on working people," Sunak said.
Also touching on some previous proposals such as taxes on eating meat and compulsory car sharing if you drive to work, he said he scrapped those suggestions.
He also stressed that they will not ban new oil and gas drilling in the North Sea which would "leave us reliant on expensive, imported energy" from outside.
"We will never impose these unnecessary and heavy-handed measures on you, the British people, but we will still meet our international commitments and hit Net Zero by 2050," added Sunak.
He went on to say that his government will never force anyone to change their existing boiler and replace it with a heat pump.
"You'll only ever have to make the switch when you're replacing your boiler anyway, and even then, not until 2035."
He announced a 50% increase in the Boiler Upgrade Scheme to £7,500 ($9,240) to give people cash grants to replace their boilers.
Sunak also pledged to scrap policies that would force landlords to upgrade energy efficiency in their homes.
The prime minister's new approach to achieving the net zero goal was met with both support and backlash.
Ahead of the announcement, Home Secretary Sulla Braverman had already backed the expected changes by the government, saying: "We're not going to save the planet by bankrupting the British people."
Former Prime Minister Liz Truss also welcomed the changes on banning the sale of new petrol and diesel cars as well as the delay on the ban on oil and gas boilers, saying this is particularly important for rural areas.
"I now urge the Government to abolish the Windfall Tax on oil and gas and lift the fracking ban, which would reduce people's energy bills and make the UK more competitive," she wrote on X.
Earlier, Boris Johnson, another former prime minister, urged Sunak not to "falter" on Britain's climate pledges.
Meanwhile, Zac Goldsmith, a Conservative peer who resigned from his role as climate minister in June by accusing Sunak of being "uninterested" in the environment, expressed his opposition to the shift.
Senior Labour MPs also criticized Sunak, including Ed Miliband, the shadow climate and net zero secretary, who said: "Today is an act of weakness from a desperate, directionless prime minister"
"Liz Truss crashed the economy and Rishi Sunak is trashing our economic future," he added on X, saying that delaying the phase-out of new ICE cars will add billions in costs to families.
Green Party MP Caroline Lucas said the prime minister is "trashing" children's futures.
"Enough is enough. He's not fit to govern. He simply has to go," she wrote on X.
Meanwhile, environmental NGOs including Just Stop Oil, Greenpeace and Led By Donkeys also shared their stance against the announcement.
3 ay önce