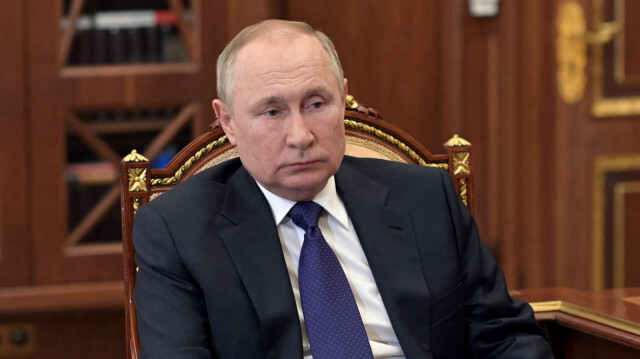 Russian President Vladimir Putin
Russian President Vladimir Putin said Wednesday that despite labeling Moscow an "aggressor," Kyiv profits from the transit of Russian gas through Ukraine.
"Two lines of the gas pipeline (go) through Ukraine. Ukraine has blocked one of them. We didn't do it! By the way, we supply gas to Europe through the second line, whereas Ukraine safely collects cash for transit, though it calls us an aggressor," Putin said during an address at a plenary session of the second Eurasian Economic Forum in Moscow.
Noting that Russia is fulfilling all its obligations in full with regards to energy supplies, he said that energy prices in Europe were approaching economically justified levels and questioned what had caused the energy crisis in the continent.
"Who is to blame for what happened? Nord Stream 1 was blown up; Nord Stream 2 was not opened. The Yamal-Europe gas route through Poland was closed. Did we close it? They closed it," he added.
On May 10, Ukraine halted shipments at the Sokhranovka distribution station, through which one-third of Russia's natural gas bound for Europe passes, leaving the Sudzha gas pumping station as Europe's sole transmission route for Russian supplies.
The transit line through Ukraine remains the only route to supply Russian gas to Western and Central European countries following Russian energy giant Gazprom's decision to no longer supply gas through the Yamal-Europe and Nord Stream pipelines.
The US is only "shooting itself in the foot" with its economic policy, reinforcing the trend that undermines its own development, Putin said.
In this regard, he said Russia and its partners in the Eurasian Economic Union (EAEU) are interested in "honest, productive and pragmatic cooperation," noting that anyone acting otherwise "damages the global economy."
Putin then argued that the global economy will only benefit from the formation of a decentralized international financial system and that it is important to coordinate efforts to form such a global system.
He further accused Western countries of "trying by persuasion, various promises (and) blackmail to force many of our partners to scale down beneficial cooperation with Russia, while they do not care at all what losses this will bring to the respective states and their peoples."
He also said that Russia counts on Azerbaijan's inclusion in Russian-Iranian agreements on cooperation in the development of railway infrastructure and freight traffic along the North-South transport route at the soonest possible time.
Last Wednesday, Putin and his Iranian counterpart Ebrahim Raisi oversaw the signing of an agreement on the construction of a railway line between Iran's northern city of Rasht and Astara on the border with Azerbaijan.
The railway line's completion is expected to complete the only missing link in the International North-South Transport Corridor (INSTC), a 7,200-kilometer (4,473-mile) multimode transportation network between India and Europe. ​​​​​​
#
International North-South Transport Corridor (INSTC)
7 days ago