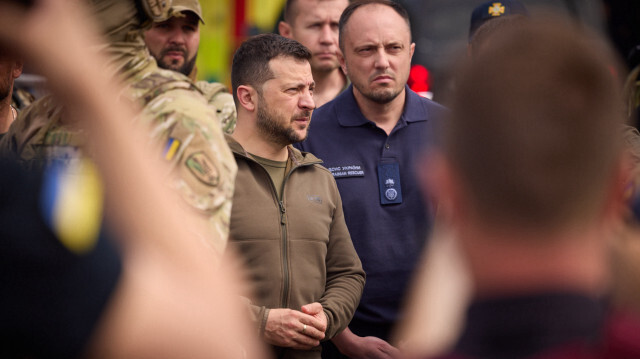 Ukraine said on Thursday that it has submitted a list of urgent humanitarian needs to NATO to overcome the consequences of the explosion of the Kakhovka dam and will "soon" receive assistance from the alliance.
"I am grateful to NATO and certain allies for their quick readiness to help Ukraine to overcome the consequences of Russia's terrorist attack on the Kakhovka Hydroelectric Power Plant," Ukrainian Foreign Minister Dmytro Kuleba said during a meeting of the Ukraine-NATO Commission, according to a statement from the Ministry of Foreign Affairs.
The statement said Kuleba called on Kyiv's partners to further strengthen Ukraine's defense capabilities and noted that the threat of new Russian "crimes" will remain "as long as Russia occupies Ukrainian land."
He also called on Kyiv's partners to adopt decisions during the NATO summit in the Lithuanian capital Vilnius in July that will bring Ukraine closer to full membership, saying this would benefit the alliance because Ukraine already makes "a significant contribution to Euro-Atlantic security," the statement said.
"Membership of Ukraine will help prevent future wars after this war ends with the victory of our state. Ukraine as part of the Alliance will be a reliable shield that will protect its eastern flank and will be able to effectively deter a potential aggressor. There is no doubt that Ukraine's membership will make NATO stronger," Kuleba said.
Russia and Ukraine on Tuesday blamed each other for blowing up the Kakhovka dam, which flooded neighboring settlements, endangered crops, threatened water supplies and led to the evacuation of residents.
Moscow accused Ukraine of attempting to cut Crimea off from the fresh water it receives from the Kakhovka Reservoir, which was formed by the dam, while Kyiv claimed that Russia tried to slow an expected counteroffensive.
4 months ago