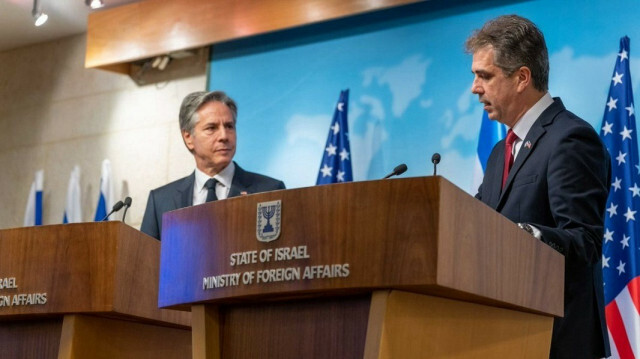 US Secretary of State Antony Blinken (L) and Israeli Foreign Minister Eli Cohen (R)
US Secretary of State Antony Blinken arrived in Israel on Monday from Egypt on the second leg of his Middle East tour.
Blinken was welcomed by Israeli Foreign Minister Eli Cohen upon his arrival at the Ben Gurion International Airport.
The top US diplomat kicked off his visit by calling on Israel and the Palestinians "to take steps to calm tensions rather than inflame them."
Blinken's visit follows rising violence in the Palestinian territories.
At least seven Israelis were killed in a shooting attack near a synagogue in an Israeli settlement in occupied East Jerusalem Friday night. Two Israelis were also injured in another attack in East Jerusalem on Saturday.
The violence came after nine Palestinians were killed and dozens injured in an Israeli military operation in the West Bank city of Jenin on Thursday.
Blinken condemned Friday's attack as well as "the subsequent terrorist attack in Jerusalem on Saturday in which a father and son were wounded."
"We condemn all those who celebrate these and any other acts of terrorism that take innocent lives, no matter who the victim is or what they believe," he said.
He stressed that "calls for vengeance against more innocent victims are not the answer and acts of retaliatory violence against civilians are never justified."
During his two-day stay, the chief US diplomat will also visit the West Bank city of Ramallah for talks with Palestinian officials.
Blinken is the third high-ranking US official to visit the region since the formation of the current Israeli government headed by Prime Minister Benjamin Netanyahu last month, following US national security adviser Jake Sullivan and CIA Director William Burns.
According to the State Department, Blinken will discuss with Israeli officials the enduring US support for Israel's security, particularly against threats from Iran.
The talks will also take up Israel's deepening integration into the region, Israeli-Palestinian relations, and the importance of a two-state solution, and a range of other global and regional issues.
In the West Bank, Blinken will meet with Palestinian President Mahmoud Abbas and senior officials to discuss Israeli-Palestinian relations, political reforms, and further strengthening the US relationship with the Palestinians.
2 months ago