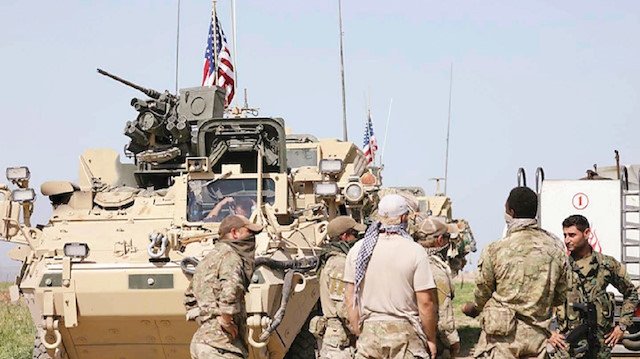 U.S. commanders planning for the withdrawal of U.S. troops from Syria are recommending that terorists from the Kurdistan Workers' Party (PKK) be allowed to keep U.S.-supplied weapons, four U.S. officials said, a move that would likely anger NATO ally Turkey.
Three of the officials, speaking on the condition of anonymity, said the recommendations were part of discussions on a draft plan by the U.S. military. It is unclear what the Pentagon will ultimately recommend to the White House.
Discussions are still at an early stage inside the Pentagon and no decision has yet been made, the officials said. The plan will then be presented to the White House in the coming days with U.S. President Donald Trump making the final decision.
The Pentagon said it would be "inappropriate" and premature to comment on what will happen with the weapons.
"Planning is ongoing, and focused on executing a deliberate and controlled withdrawal of forces while taking all measures possible to ensure our troops' safety," said Commander Sean Robertson, a Pentagon spokesman. The White House did not comment.
Trump last week abruptly ordered a complete withdrawal of U.S. troops from Syria, drawing widespread criticism and prompting Defense Secretary Jim Mattis' resignation.
The United States told YPG terrorists that "they would be armed by Washington until the fight against Daesh was completed," one of the U.S. officials said.
"The fight isn't over. We can't simply start asking for the weapons back," said the official.
But Turkey wants the United States to take the weapons back, so the commanders' recommendation, if confirmed, could complicate Trump's plan to allow Turkey to finish off the fight against Daesh inside Syria.
Turkey has been reinforcing its military presence on the border with Syria since Turkish President Recep Tayyip Erdoğan signaled that Ankara will soon launch a cross-border operation against the terrorist YPG/PKK in northern Syria.
Since 2016, Ankara has successfully carried out two similar military operations in northern Syria.
In its more than 30-year terror campaign against Turkey, the PKK -- listed as a terrorist organization by Turkey, the U.S. and the EU -- has been responsible for the death of some 40,000 people, including women and children. The YPG is its Syrian branch.
The Pentagon keeps records of the weapons it has supplied to PKK/YPG terrorists and their chain of custody. But, the U.S. officials said, it would be "nearly impossible to locate all of the equipment."
"How are we going to get them back and who is going to take them back?" one of the officials asked.
5 yıl önce