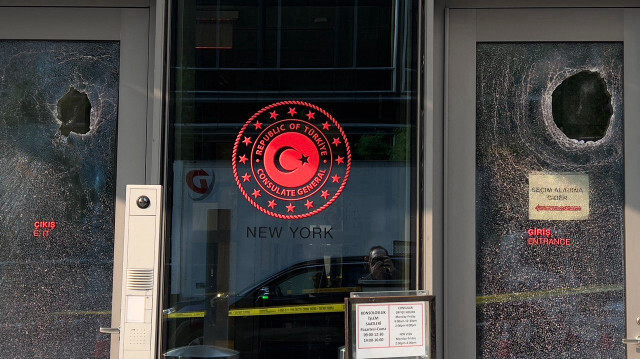 A US court on Saturday ordered supervised release for a suspect accused of attacking the Turkevi Center or Turkish House in New York City earlier this week.
Recep Akbiyik, 29, was charged with attempted robbery, terrorism, possession of weapons for a crime, making terrorist threats, criminal damage, and threatening.
The charges were read out to him through an interpreter in the New York City Criminal Court.
The judge has prohibited Akbiyik from approaching the Turkish House and its vicinity.
The hearing was adjourned until July 25.
The suspect was also referred to the Psychiatry and Neurology Department of Bellevue Hospital in New York in order to assess his mental condition.
On Wednesday, authorities identified Akbiyik as the primary suspect in the early Monday attack that damaged the building.
Video footage obtained by Anadolu shows an assailant smashing the windows of the building at 3.14 a.m. with a crowbar.
The suspect was taken into custody on Friday.
The center houses diplomatic offices, including Türkiye's UN Mission and New York Consulate General.
Turkish authorities strongly condemned the attack and urged their US counterparts to provide necessary protection to ensure the safety of its diplomatic missions.
4 ay önce