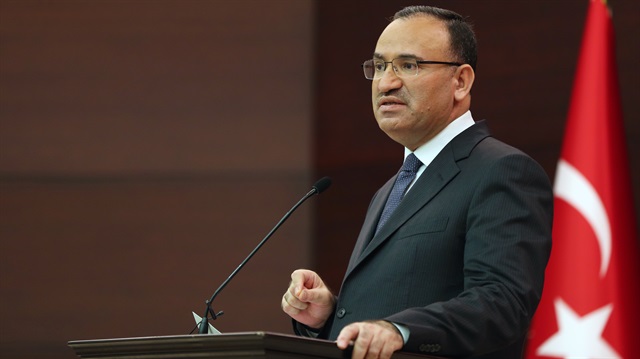 Turkish Deputy Prime Minister and Government Spokesman Bekir Bozdağ on Tuesday held the U.S. directly responsible for the massacre carried out by Israel in the besieged Gaza Strip on Monday which killed 60 peaceful Palestinian protesters near the border.
"The blood of the oppressed is only on the hands of the terrorist Israel; the U.S. is directly responsible for the massacre," Bozdağ said in the Turkish Parliament during a session dedicated to the latest developments in Jerusalem and Gaza.
Thousands of Palestinians have gathered on the Gaza Strip's eastern border since Monday morning to take part in protests aimed at commemorating the Nakba anniversary and to protest the relocation of the U.S. embassy from Tel Aviv to Jerusalem.
Monday's protests were part of weeks-long rallies that will culminate on Tuesday, which marks the 70th anniversary of Israel's creation, an event Palestinians refer to as the "Nakba" or "the Catastrophe."
"Sooner or later Jerusalem will be free"
"The U.S. is no longer part of the solution, it's part of the problem," pointed Bozdağ as he reaffirmed Turkey's stance that East Jerusalem is the capital of Palestine.
"Sooner or later Jerusalem will be free. No fait accompli can change the fact that Jerusalem is the capital of Palestine. Even if the whole world remains silent, Turkey will not," he concluded.
Turkey has called for a meeting of the Organization of Islamic Cooperation on Friday. It has been one of the most vocal critics of the violence in Gaza, as well as the U.S.'s embassy move.
Since the rallies began on March 30, more than 100 Palestinians have been killed and hundreds injured by cross-border Israeli gunfire, according to the Palestinian Health Ministry.
Last week, the Israeli government said the ongoing border protests constituted a "state of war" in which international humanitarian law did not apply.