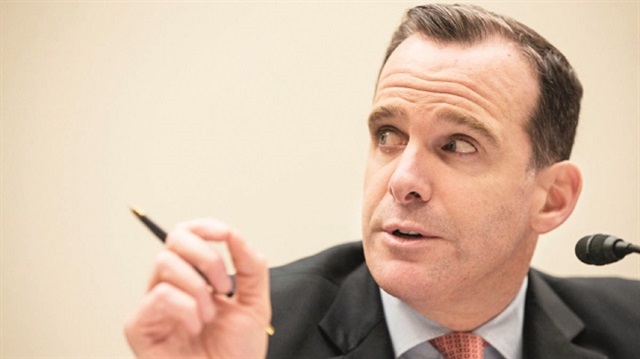 The coalition forces, led by Brett McGurk, the U.S. Special Presidential Envoy for the Global Coalition to Counter Daesh, who has recently come to light with his anti-Turkey statements, slaughtered 46,000 civilians in operations in Iraq's Hams and Syria's Raqqa provinces.
Eighteen thousand civilians are unaccounted for in both provinces.
Speaking to Yeni Şafak, "At least 40,000 civilians were killed by the bombardment in only one year in Mosul. We cannot reach more than 12,000 citizens, said Izzeddin Dawlah, a member of the Council of Representatives of Iraq. On the other hand, 6,000 civilians were killed in Raqqa, another location that the anti-Daesh coalition carries out military operations. Saad al-Shawish, Head of Local Council, told Yeni Şafak that more than 5,000 people were lost during the operation process.
CONSPIRING WITH TERRORISTS
The coalition forces, led by Brett McGurk, who was backlashed due to his statements in the United States regarding Idlib and al-Qaeda, conspires with many groups and names that are listed as "terrorists" by the USA. Abu Mahdi al-Muhandis, included in the updated terrorist list, along with terrorist groups such as Quds Force and Hezbollah, participated in the Mosul operation as an ally force. Notorious terrorists who were trained in Qandil and sent to Syria, such as Shervan Derwish, Redur Xelil and Sipan Hemo, also cooperated with Brett McGruk at the Syria-Raqqa step of the operation.
Eighty-eight percent of government and private buildings in Mosul, Iraq's second biggest province, were destroyed in operations by anti-Daesh coalition Hashd Shaabi (Popular Mobilization Forces) and PKK, which are included in the U.S.'s terror list. It was stated that $12 billion is required for the reconstruction of the city, particularly districts of Mosul: al-Jadida, al-Farouq and al-Qadima. In an interview with Yeni Şafak regarding the tragedy in Mosul, Iraqi doctor Omar Hadi said:
"Many families buried their dead in the courtyard, or in rooms of their homes. People could not go out for months on end as the city was being heavily bombed. Due to the bombardments and siege, no humanitarian aid could reach Mosul for more than five months. More than 2,000 children and women lost their lives due famine and lack of medical aid."
Dr. Omer Hadi said that "the clashes are ongoing in Mosul's suburbs in spite of the statement claiming that the operation, which started on Oct. 17, 2016, had been concluded.
Seventeen of Mosul's 24 districts destroyed
Constantly bombed under McGurk's leadership, Trump's special envoy, Iraq's province of Raqqa is no different than Mosul. Reporting to Yeni Şafak, Head of Raqqa's Local Council Saad al-Shawish said 17 districts out of 24 were destroyed in bombardments. Al-Shawish noted that the ongoing war in Raqqa was a staged battle, the city of one million population was bombed against 300 Daesh militants, and the process was deliberately prolonged.
Mosul's population was 2.2 million before the U.S. bombardment of the city; this number dropped to 135,000 when it was stated that the province had been liberated. The population in Raqqa, previously 650,000, fell to 55,000 due to the bombardments.
6 yıl önce