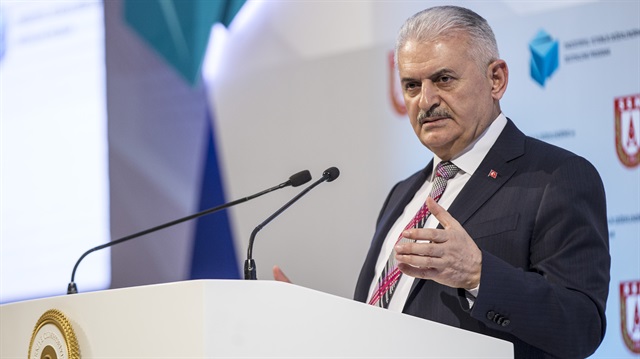 Prime Minister of Turkey Binali Yıldırım
Prime Minister Binali Yıldırım said on Friday that the U.S. Patriot missile system was not an alternative to the S-400 deal Ankara had reached with Moscow.
"Turkey is a NATO member, thereby NATO's borders begin with Turkey's southern borders. We look at any effort to protect Turkey's southern border warmly," said Yıldırım.
"Despite some errors committed by the United States in Syria, Washington is still our ally. The U.S.'s Patriot missile system is not an alternative to the S-400s," he added.
Turkey and the U.S. have been trying to iron out a number of issues, principally concerning the YPG/PKK terror group in Syria, a group the U.S. has worked with, calling it a "reliable ally" in the fight against Daesh.
Turkey and the U.S. have established working groups to discuss a number of issues including the stabilization of Manbij, Syria and preventing any undesirable clashes.
Earlier Friday, Ankara's Foreign Ministry Spokesman Hami Aksoy said that Turkey was continuing talks with the U.S. over buying Patriot missile systems.
In December last year, Turkey and Russia signed an accord for Moscow to supply Ankara with S-400 surface-to-air missile batteries, finalizing a deal set to deepen military ties between NATO member Turkey and the Kremlin.
Turkey opens airspace to northern Iraq
Turkey is lifting its nearly six-month ban on flights to the northern Iraqi city of Erbil, Yıldırım announced.
"We had closed down our airspace following northern Iraq's referendum. We are opening our airspace as of today," he said.
An international flight ban was imposed last Sept. 29 in response to an illegitimate poll on regional independence carried out by the Erbil-based Kurdish Regional Government (KRG).
Before the poll, most regional actors -- including Turkey -- had voiced opposition to the referendum, with many warning that it would further destabilize the already volatile region.
Yıldırım also said commercial flights would be available from either Turkey or Europe to Erbil.
"However, this is only effective for Erbil. There will be no flights to Sulaymaniyah. Because, unfortunately the terror group's activities against our country [Turkey] continue intensely."
5 years ago