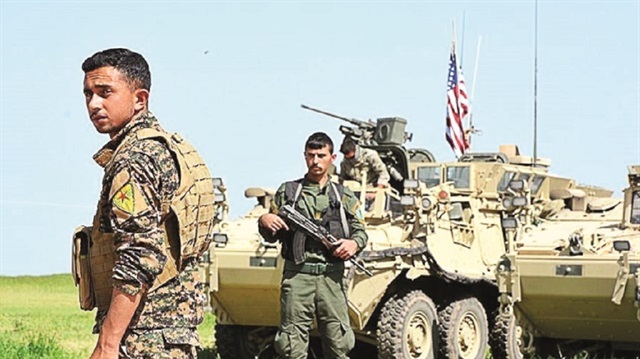 The U.S. administration has been pressuring the Syrian opposition to form a joint Raqqa-based council that includes memebers of the PYD, the terrorist Kurdistan Workers' Party (PKK)'s Syrian affiliate. Members of the Syrian opposition coalition who refuse to comply face threats and blackmail aimed at forcing them to accept the U.S.'s new plan for post-Daesh Syria.
A member of the Syrian Coalition of Revolutionary and Opposition Forces, who spoke to Yeni Şafak under the condition of anonymity, has disclosed the details of a series of meetings conducted by the U.S. envoy Brett Mcgurk, with the backing of Saudi and U.S. intelligence. It aims to move the Syrian opposition coalition from Istanbul to a Raqqa-based Council that includes members of the PKK/PYD terror organziation.
"They are sparing no effort to actualize this project. They want the Syrian Opposition Coalition to operate from Raqqa," according to the same Syrian opposition coalition member.
'They're discrediting the Syrian opposition coalition'
Former Syrian opposition coalition head Ahmad Jarba has held three different meetings in Egypt with the coalition's head negotiator in a bid to convince him of the U.S.'s post-Daesh Syria plan, which involves Arabs controlling an autonomous state that spans regions of Homs, Aleppo, Deir Ezzor, Raqqa, Hama and Daraa.
Jarba also declared in the meetings that the Astana peace process "will be an absolute failure."
'Political and military siege'
In recent days, Syrian opposition negotiator Riyad Hijab was removed from his post by the coalition's administration. A large part of the Syrian opposition rejected the pressure intending to distance the coalition from the Turkey-Qatar bloc. Muhammad Dahlan also provided support to Ahmad Jarba's efforts to convince Hijab of the American proposal.
'Sabotaging Syria's peace process'
U.S. and Saudi-backed Free Syrian Army (FSA) groups fighting in southern Syria, with the support of the Pentagon and the CIA from Jordan, are attempting to sabotage the peace process sponsored by Turkey, Russia and Iran in the Kazakh capital of Astana.
'The only condition is to accept a terror corridor'
The only condition put forth by the U.S. to Assad's Arab opposition is to accept an autonomous PKK/YPG-controlled region that spans across the cities of Hasakah, Tal Abyad, Manbij, Qamishli, Rasuleyn, Sheikh Issa, Afrin and Derbasiye.
The PKK is listed as a terrorist organization by Turkey, the European Union and the United States.
The PKK has been conducting armed violence in the southeastern part of Turkey since 1984. More than 40,000 people, mostly civilians, have been killed in the three-decade long conflict.