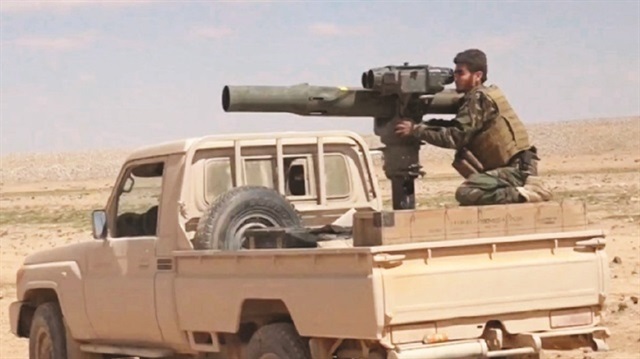 The U.S. has resumed sending weapons to terrorists from the Kurdistan Workers' Party (PKK)'s Syrian offshoot, the PYD, in Syria's Afrin, including the advanced U.S.-made anti-tank (TOW) missile, despite President Donald Trump's pledge to stop sending arms shipments to the PKK.
Over the past 20 days, three U.S. arms shipments were sent by the Pentagon to the PKK through the Hasakah route, to be used against Turkish Armed Forces (TAF) in the event of a possible Afrin operation.
The number of state-of-the-art BGM-71 TOW missiles delivered to the PKK has reached 70.
The TOW missiles, which have been part of the U.S. army's arsenal since 1970, have been sent through the Hasakah-Manbij-Safira route, which has been used extensively against the TAF throughout the Euphrates Shield Operation frontline.
TOW education inside terror camps
The U.S-made TOW missiles have been used by both the PKK and Daesh against the Turkish Armed Forces since the launch of the Euphrates Shield Operation on Aug. 24, 2016.
PKK terrorists rely heavily on TOW missiles as they fortify their position in Afrin in preparation for a possible Turkish operation.
PKK terrorists received training on how to operate TOW missiles in seven terror camps established across PKK-occupied regions in Syria.
In the camps, terrorists receive a document certifying that they passed their TOW training upon completion and are then sent to Afrin.
U.S. President Donald Trump on Nov. 24 in a phone call with Turkish President Recep Tayyip Erdoğan pledged that the U.S. will stop arming the YPG.
The Democratic Union Party (PYD) and its military People's Protection Units (YPG) wing are Syrian branches of the Kurdistan Worker's Party (PKK), which has waged war against Turkey for more than 30 years.
Turkey has repeatedly objected to U.S. arms being sent to the PYD, due to its links to the terrorist organization the PKK.
قبل٪ s