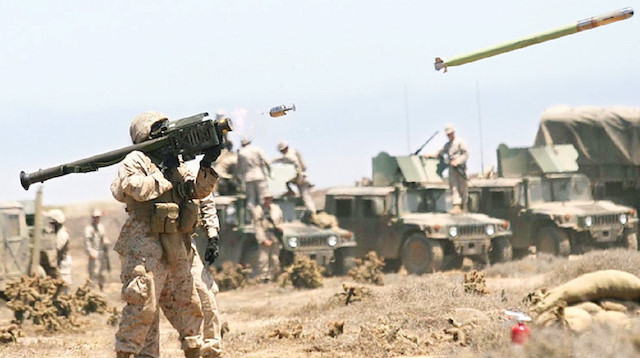 The U.S. is set to deliver shipments of Stinger anti-aircraft missiles (MANPADS) to Kurdistan Workers' Party (PKK) terrorists in Syria, according to Yeni Şafak daily's local sources in the area.
The move, which is said to be supported by Israel, comes amid worsening tensions between Washington and Ankara over the latter's purchase of Russian-made S-400 missile defense systems.
The terror group is said to have designated Rmeilan, Shadadi, Jalabiya and al-Omar regions as launching points for the U.S.-made missiles.
Israel has also vowed to supply PKK terrorists with powerful Spike anti-aircraft missiles in Deir Ezzor and Raqqa following high-level meetings between the terror group and Tel Aviv.
A group of 30 PKK terrorists have already received training to handle the advanced anti-aircraft missiles that pose a threat to Syria, Turkey and Iran's airspaces.
According to Yeni Şafak's local sources, the U.S.-PKK alliance is closely coordinating the deployment of the missiles in Syria, as part of a "special joint strategy."
In its more than 30-year terror campaign against Turkey, the PKK -- listed as a terrorist organization by Turkey, the U.S. and the EU -- has been responsible for the deaths of nearly 40,000 people, including women and children.