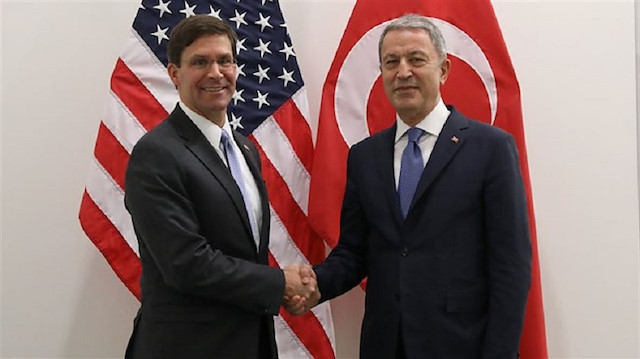 Turkish defense minister on Friday spoke over the phone with his U.S. counterpart to discuss the implementation of the agreement on proposed safe zone in northern Syria, said Turkey's Defense Ministry.
According to a ministry statement, Hulusi Akar and his U.S. counterpart Mark Esper emphasized the mission towards the establishment of the safe zone was aimed to be successful in respect to the territorial integrity of Syria.
It was stated that the withdrawal of the YPG/PKK terrorists from the proposed safe zone, re-collection of heavy weapons from terrorists and disablement of their fortifications, as indicated in the agreement, have been closely monitored.
The statement said Turkey expects from the U.S. to fulfill the commitments, adding the two countries are determined in their fight against Daesh.
It was also stressed that the right to self-defense would be exercised if the Turkish Armed Forces faced any harassment or hostility.
On Thursday, Turkey and the U.S. came to an agreement to pause Turkey's anti-terror operation in northern Syria.
Turkey agreed to pause its Operation Peace Spring for 120 hours to allow the withdrawal of terrorist YPG/PKK forces from the planned safe zone.
Erdogan and U.S. Vice President Mike Pence also agreed on Turkey having 20 miles (32 kilometers) of safe zone south of the Turkish border in Syria.
On Oct. 9, Turkey had launched Operation Peace Spring to eliminate terrorists from northern Syria in order to secure Turkey's borders, aid in the safe return of Syrian refugees and ensure Syria's territorial integrity.
Ankara wants to clear northern Syria east of the Euphrates River of the terrorist PKK and its Syrian offshoot, the YPG/PKK.
In its more than 30-year terror campaign against Turkey, the PKK -- listed as a terrorist organization by Turkey, the U.S. and the European Union -- has been responsible for deaths of 40,000 people, including women, children and infants.