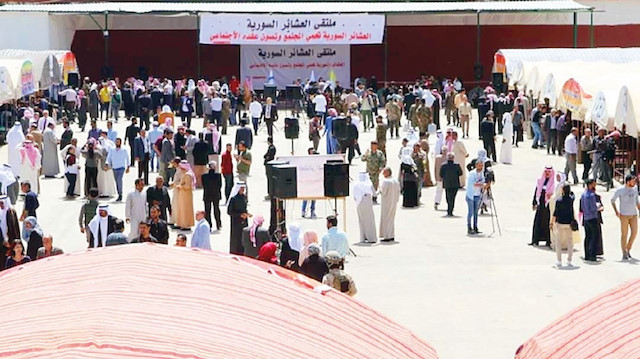 A new so-called "Arab" party was founded in Syria with the support of the U.S. and the United Arab Emirates (UAE) in a new charade aimed at Kurdistan Workers' Party (PKK) terrorists in gaining the favor of Arab tribes.
The Raqqa-based party, called the Independent Arab Movement, is said to be supported by crown princes Mohammed bin Salman and Mohammad bin Zayed in coordination with the U.S. administration with the aim of "improving the image" of PKK terrorists in the eyes of Arab tribes in the northeastern region.
The sham party held its first meeting on March 29 under the leadership of so-called chairman Mohammad al-Shakir, who hails from Raqqa and is known to be affiliated with the PKK.
Speaking exclusively to Yeni Şafak, spokesman for the Syria Tribal Council Mudar Hammad pointed that the new party is "an attempt to legitimize the PKK on the ground," adding that "high-ranking PKK members including Salih Müslüm, İlham Ahmed and Ahmad al-Jarba were among the many terrorists who took part in the conference."
Hammad went on to say that the main aim behind the party is to "prevent the PKK from looking like an occupying force."
Turkey has long criticized the U.S. working with and supplying arms and ammunition to the terrorist YPG/PKK, for the ostensible purpose of defeating the terrorist group Daesh. Turkish officials argue that using one terrorist group to fight another makes no sense.
In its more than 30-year terror campaign against Turkey, the PKK -- listed as a terrorist organization by Turkey, the U.S. and the EU -- has been responsible for the deaths of nearly 40,000 people, including women and children. The PYD/YPG is its Syrian branch, and it also works under the label SDF.