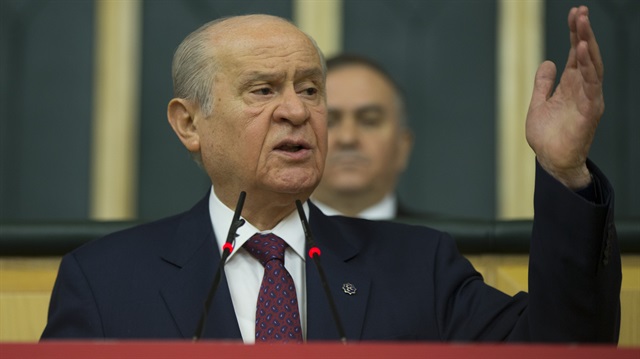 The leader of opposition Nationalist Movement Party (MHP) has urged the U.S to not arm the PKK/PYD terror group.
Addressing his party's parliamentary group meeting, Devlet Bahçeli said Tuesday: "The U.S should stop providing weapons to PKK...
"The U.S should immediately refrain from underestimating Turkey."
Despite strong protests from Turkey, the U.S. has armed the SDF, which comprises of PKK/PYD terrorists, and termed the group a "reliable ally".
The PKK itself is widely recognized as a terrorist group, including by the U.S.
About Premier Binali Yildirim's meeting with the U.S. Vice President Mike Pence at the White House on Thursday, he said Turkey and the U.S have decided to open a new chapter based on constructive dialogue. "At first sight, this [new] situation is pleasing."
However, Bahçeli called on the U.S. to stop backing the Fetullah Terrorist Organization (FETÖ).
"If the U.S is sincere..., then they should stop backing terrorist organizations, and then they should send the betrayer, the head of FETÖ, to Turkey in handcuffs on the first flight."
FETÖ and its U.S.-based leader Fetullah Gülen orchestrated the defeated July 2016 coup attempt in Turkey that left 250 people martyred and nearly 2,200 injured.
FETÖ is also held accountable for being behind a long-running campaign to overthrow the state through the infiltration of Turkish institutions.