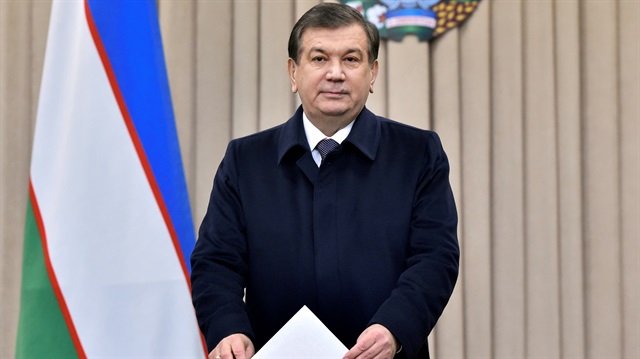 Turkish analysts are describing Uzbek President Shavkat Mirziyoyev's official visit to Ankara on Wednesday -- the first by an Uzbek leader in nearly 20 years -- as being of "vital importance".
Mirziyoyev will meet his Turkish counterpart Recep Tayyip Erdogan to discuss bilateral relations and regional developments. A news conference will follow the two leaders' meeting.
Hasan Ali Karasar, a professor at Kapadokya University in Turkey, told Anadolu Agency Mirziyoyev's visit had "vital importance".
"We regard this as a historic visit to determine the next five to 10 years in Turkey-Uzbekistan relations," he added.
According to international observer estimates, Uzbekistan will be a rising country over the next 10 years both in Central Asia and in Eurasia.
"Until now, relations [between Ankara and Tashkent] could not be brought to the desired level," Karasar said.
He said bilateral trade was worth about $1.3 billion: "A goal was set to increase it to $5 billion in five years and to $10 billion in 10 years."
"Uzbekistan has a strategic position. Uzbekistan's enrichment and prosperity are not only important for Turkey, but also for whole world," he added.
Mitat Celikpala, a professor in the International Relations Department at Istanbul-based Kadir Has University, said better relations were "highly important" for Turkey's regional effectiveness in Eurasia.
"We were experiencing both unfair and unnecessary, as well as prolonged, coldness. This visit is very important in terms of overcoming this and proceeding with new steps," Celikpala told Anadolu Agency.
Oktay Tanrisever, a professor in the International Relations Department of Turkey's Middle East Technical University, said Mirziyoyev's visit would be a "vital" opportunity to strengthen relations.
"This historic visit will have a crucial place in enhancing of relations between two brotherly countries," Tanrisever said.
He said bringing together the capacities of Ankara and Tashkent would have the potential not only to accelerate cooperation in the Turkic world, but also to solve many problems in Central Asia and Southern Asia.
Mirziyoyev, 60, became Uzbekistan's leader on Dec. 14 last year after his long-serving predecessor, Islam Karimov, died in September after 27 years in office.
After becoming president, Mirziyoyev launched a five-year plan -- the "Strategy of Action" -- to run until 2021.
"This strategy will encompass the five top priority directions related to state building, improvement of the judicial system, liberalization of the economy, acceleration of development of the social sphere and implementation of an active foreign policy," he told parliament on Dec. 14.