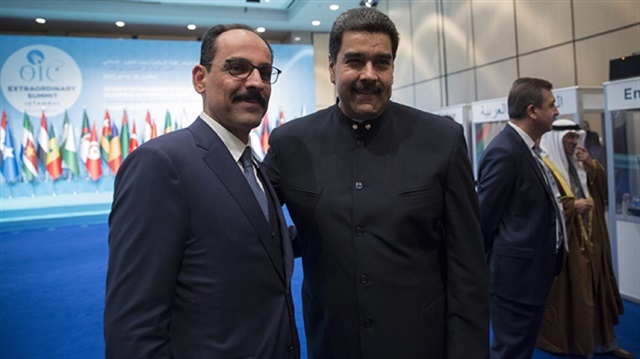 Venezuelan President Nicolas Maduro was among the attendees of the Organization of Islamic Cooperation's (OIC) extraordinary summit held in Istanbul on Wednesday upon Turkish President Recep Tayyip Erdoğan's call following U.S. President Donald Trump's decision on Jerusalem.
Maduro, who is in Istanbul for another meeting, attended the summit as a special observer. Venezuelan Foreign Minister Jorge Arreaza and Minister of Communication Jorge Rodriguez were also present at the extraordinary summit.
On Monday Maduro stated that Trump's declaration was "illegal, absolutely illegal." He went on to say that it was a provocation and a declaration of war against the Arabs, Muslims and the good people of the world.
He stated that his role in the summit was to evaluate "anything to do with the solidarity with the people of Palestine" who face "the aggression of the imperialist [U.S.] government."
President Trump last week formally recognized Jerusalem as Israel's capital and initiated a plan to move the U.S.'s Israel embassy from Tel Aviv to the holy city. "Today we finally acknowledge the obvious: that Jerusalem is Israel's capital," he said at the White House.
Turkey invited leaders of over 50 Muslim nations to Wednesday's meeting in Istanbul to formulate a joint response to Trump's decision.
Venezuela boosting ties with Turkey
President Erdoğan had received his Venezuelan counterpart on Oct. 6 in Ankara, and five agreements were signed between the two countries.
"We want to open a new era in relations between Venezuela and Turkey," Maduro said in a joint statement with Erdoğan. "We want to sketch out a new era for the world. A multi-polar world where everyone can find their place," he added.