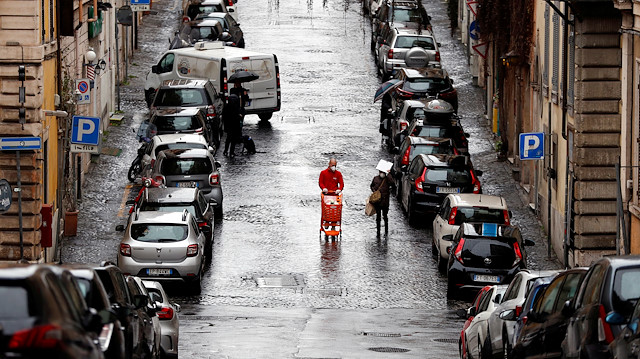 As the coronavirus pandemic is taking its toll both on the lives of people and the economies of countries, well-respected economists analyzed the interaction between containment measures and economic activity, evaluating some policy responses to the coronavirus-driven economic crisis.
In a survey conducted by the Initiative on Global Markets (IGM), a research center at the Chicago University, they indicated the extent to which they agree or disagree on important public policy issues.
The coronavirus pandemic has thrown the world into unprecedented uncertainty and does not favor any nation, triggering an economic crisis never seen before.
In the age of containment measures, economic rescue packages and expansionary monetary plans, around 41 economists participated in the survey to give the public a broad sense of their assessment on anti-coronavirus measures.
Each economist voted for a selection of three statements with a degree of confidence.
The first statement: "A comprehensive policy response to the coronavirus will involve tolerating a very large contraction in economic activity until the spread of infections has dropped significantly."
Most economists were in favor of this policy, with 66% of the panel strongly agreeing, 31% agreeing, 3% uncertain and none disagreeing.
Daron Acemoglu, a prominent Turkish-born economist working at MIT, agreed with this statement, but "containment doesn't mean complete elimination," according to him. "It may be optimal to stagger the return to work for low-risk groups once peak-disease is gone."
James Stock from Harvard University argued that the spread of infections must drop to a point the health system can handle; it will be a contraction but not clear suppression is a desirable goal.
The reduction in business activity is necessary to prioritize human life, Darrell Duffie from Stanford University opined.
Among opposing comments, Pinelopi Goldberg at Yale University noted: "We need to know the true infection and asymptomatic rates before deciding on local lockdowns."
Sharing a similar view with Goldberg, Robert Hall from Stanford University said: "As of today, that seems right. Had we been as well governed as Singapore, maybe not so expensive."
- Lockdowns eliminate resurgence in infections
The second statement: "Abandoning severe lockdowns a time when the likelihood of a resurgence in infections remains high will lead to greater total economic damage than sustaining the lockdowns to eliminate the resurgence risk."
Weighted by confidence in their response, 57% of economists strongly agreed with this statement, while 32% agreed, 11% were uncertain and none disagreed.
Strongly agreeing with this statement, Duffie cited epidemiology studies implying severe economic damage in the form of additional loss of human life, "to which I assign high economic damage."
"Crazy to give up the fight now when worst still ahead," said Bengt Holmstrom from MIT.
Anil Kashyap at the University of Chicago also prioritized lives over economy.
"Everything I read suggests that premature cessation will backfire," he said, suggesting analysis of Andy Atkeson, a professor of economy at the University of California, for read.
In his criticism of U.S. President Donald Trump for his unwilling stance for lockdowns - which he wanted to keep it short despite the reality requires vice versa, Aaron Edlin, a professor of economics and law at the University of California, Berkeley, said this is obvious to everyone except Trump.
- Governments invest more to improve treatment capacity
In the third statement, economists voted whether the government would invest more to expand treatment capacity through steps such as building temporary hospitals, accelerating testing, and producing more masks and ventilators.
The economists have strong confidence in their response, with 78% of them strongly agreed with the statement, 22% agreed, and none were uncertain or disagreed.
Voicing strong support for this policy, Acemoglu said: "Absolutely. The U.S. federal response has been incoherent and counterproductive. Hard to understand the lack of investment ahead of the current situation."
David Autor from MIT dubbed the fiscal response "awesome", called the federal health response "abysmal".
Larry Samuelson from Yale University was precise in her argument: "A timely response could have less vigorous and less expensive, but we must now intervene all the more to compensate for wasted time."
- US policy response 'tragic'
Some economists also express their frustration in the face of the U.S. policy response to the coronavirus crisis.
"Massive incompetence in delayed testing and supplies acquisition. Thankfully some governors are stepping up," said Richard Thaler, a professor of economy and the behavioral science at the University of Chicago.
Thaler observed the White House's handling the crisis as "tragic" and "the failure of executive leadership in government."
According to Richard Schmalensee from MIT, some state governments are flat out, others asleep.
"The federal government should do more now and should prepare for the next pandemic."