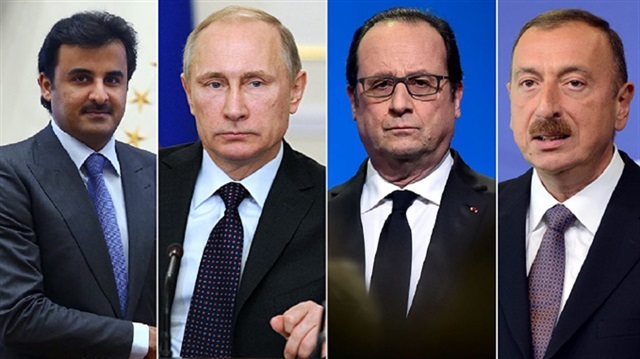 Russian President Vladimir Putin on Sunday expressed condolences to Turkish President Recep Tayyip Erdoğan over the recent explosion that targeted a wedding celebration in the Turkish city of Gaziantep, the Kremlin press service said.
"The crime committed in the midst of a wedding celebration astonishes with its cruelty and cynicism. We have once again seen that not only does terrorism not recognize the laws of a civilized society, but also the most basic norms of human morality," Putin said in a letter to Erdoğan, according to the Sputnik website.
U.S. Ambassador to Turkey John Bass said that they condemn the barbaric attack on innocent civilians in Gaziantep.
"We stand by our ally Turkey and pledge to continue to work closely together to defeat the common threat of terrorism," he wrote.
Büyükelçi Bass'in Gaziantep'teki Terör Saldırısına İlişkin Açıklaması | 21 Ağustos 2016 pic.twitter.com/pmunjca2Tx

— US Embassy Turkey (@USEmbassyTurkey) 21 Ağustos 2016
French President François Hollande said in a statement that he "strongly condemns the despicable terrorist attack in Gaziantep in Turkey during a wedding."
Azerbaijan President Ilham Aliyev said the Gaziantep attack gave him a deep shock. Aliyev, in his message to Erdoğan expressed his sorrow over the incident.
Je dénonce avec force l'ignoble attentat à Gaziantep. La France adresse aux autorités et au peuple turcs ses condoléances dans cette épreuve

— François Hollande (@fhollande) 21 Ağustos 2016
"My deepest condolences to Turkey over the brutal terrorist attack at the wedding last night. My thoughts are with all those inflicted," the minister for the Foreign Affairs of Sweden, Margot Wallström wrote via her Twitter account.
My deepest condolences to #Turkey over the brutal terrorist attack at wedding last night. My thoughts are with all affected @MevlutCavusoglu

— Margot Wallström (@margotwallstrom) 21 Ağustos 2016
Jordan on Sunday condemned the terrorist attack that targeted a wedding ceremony in the southern Turkish city of Gaziantep. The minister of state for Media Affairs, Mohammad Momani, said that this cowardly attack is new proof of the obscurantism of these terrorist organizations, forces of darkness and their hostilities and hatred toward humanity and life.
Momani renewed Jordan's call for concerted regional and international efforts to fight terrorism and root out the ideologies of forces of darkness that target civilians in the region and the world.
Qatar strongly condemned and denounced the bombing, which targeted a wedding ceremony in Gaziantep.
The Ministry of Foreign Affairs said the State of Qatar condemns this criminal act which contravenes all human values and principles and religions, by targeting the innocent civilians.
Pakistan strongly condemned the terrorist attack and reaffirmed its solidarity with the Turkish government and its people.
A bomb attack that killed at least 51 people and wounded dozens of others at a wedding ceremony in the southeastern Turkish province of Gaziantep late Saturday, has been found, according to local officers.
The terrorist attack took place in the Beybahçe neighborhood of the province's Şahinbey district.
No group has yet claimed responsibility for the attack.