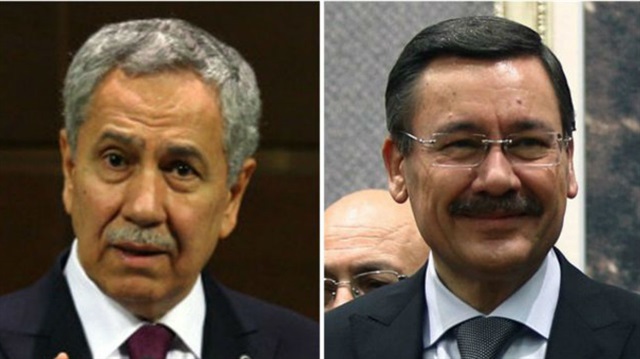 An Ankara prosecutor launches an investigation against Turkish Deputy Prime Minister Bülent Arınç and Ankara Metropolitan Mayor Melih Gökçek, as they bitterly voice accusations towards each other.
The Ankara Chief Public Prosecutor's Office on Tuesday, March 24, launched the investigation after the two prominent AK Party politicians bitterly accused each other after President Erdoğan's comments on the resolution process.
The debate between the two pro-AK Party politicians, Deputy PM Bülent Arınç and Ankara Mayor Melih Göçek, was established on the grounds of Arınç's comments on Erdoğan's recent words on the peace process related remarks. Arınç criticized Erdoğan's not favoring the forming a monitoring team for the peace process.
The Ankara mayor Gökçek, who ruled Ankara as a mayor for more than 20 years, accused Arınç via his twitter account of serving the parallel structure and called on PM Davutoğlu to dismiss him from his posts of government speaker and deputy prime minister for engaging in a war of words with President Recep Tayyip Erdoğan over the Kurdish peace process.
Arınç, a co-founder of the AK Party with Erdoğan, who has been serving as Deputy PM of Turkey since 2009, accused Gökçek of siting on the lap of the Gülen movement and corruption, and slammed Gökçek's call for his "immediate dismissal" as an "impertinent".
"He sold Ankara to this structure [Gülen Movement] plot by plot," Arınç said in a press briefing following a cabinet meeting on Monday, adding that he was ready to unveil the wrongdoings of Gökçek.
The investigations have now been launched about Arınç, who is accused of official misconduct and covering up crimes, and Gökçek, on charges of embezzelement and misconduct.
If criminal elements are detected, permission to investigate Gökçek will be requested from the Interior Ministry.
A summary of proceedings needs to be prepared and sent to parliament to prosecute Arınç, who has legislative immunity.
PARTY DISCIPLINARY ACTIONS
Meanwhile, Prime Minister Ahmet Davutoğlu declared that the both politicians will be referred to the party's disciplinary body as he found both of them wrong. "Both statements are wrong. We will take disciplinary actions against them," he said.
Davutoğlu indicated that he met with deputy PM and warned him, and added that he also will meet Gökçek today and will warn him to.
#
Ankara Mayor Melih Gökçek
9 yıl önce