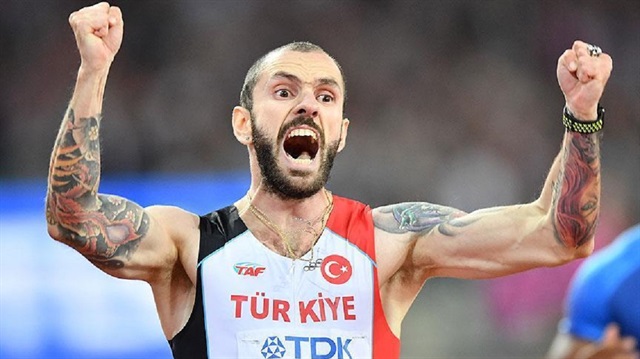 Ramil Guliyev, a Turkish world champion sprinter, is seeking to break the 200-meter record in next year's European Athletic Championships.
"That is my biggest goal," the 27-year-old athlete told Anadolu Agency while he was training in southern Antalya city for the biennial event, and the Mediterranean Games, which are held every four years.
Guliyev, who is originally from Azerbaijan but gained Turkish citizenship in 2011, secured the country's first gold medal in the men's 200 meters at the IAAF World Championships in London in August.
A member of Turkey's Fenerbahce sports club since 2010, Guliyev finished in 20.09 seconds, ahead of South African Olympic champion Wayde van Niekerk, who took silver in 20.11 seconds.
Gulivev said that he became an athlete at age 14 in Azerbaijan and gained a number of achievements, but decided to move to another country due to inadequate opportunities for sports in the country.
"I saw that my potential was great. I had to work hard to turn that potential into reality," he said. "I needed a place to practice. It was very difficult at that time in Azerbaijan. Because there was no place to practice. They were not sending me to a camp abroad. It was a very difficult situation," he recalled.
Guliyev was barred from participating in international competitions for three years after he transferred to Turkey seven years ago.
The young athlete said that the IAAF World Championships in London had a very important place for him, where he got his gold medal after 10 years of hard work.
"My biggest goal now is to break the European record at 200 meters. After Europe, I want to break the world record and win medals in the Olympics. My training program is all set towards this end," Guliyev said.