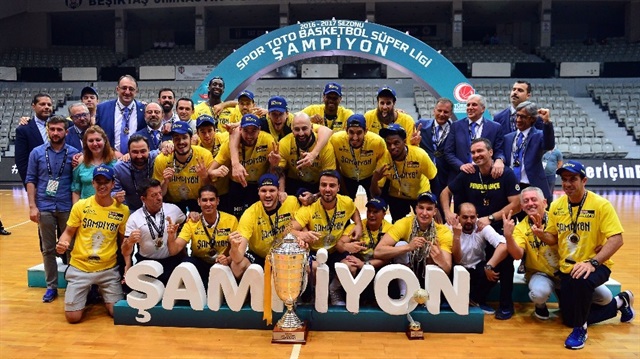 Fenerbahçe won the Turkish basketball league title by edging out Beşiktaş 98-94 on Friday evening, capping off their playoff finals series sweep, 4-0.
Like the third match in the series, the Yellow Canaries made a late comeback over their Istanbul rivals, coming back from a 12-point deficit with 2.30 minutes left to go in the fourth quarter.
The match went into overtime after a 84-84 tie, thanks to big-time plays by Fenerbahce's Jan Vesely, Bogdan Bogdanovic, and Bobby Dixon.
In the overtime period, the Turkish Airlines EuroLeague Champions managed to dominate their opponents to complete the series sweep and claim back-to-back titles.
In the victorious match, Bogdanovic scored 23 points, and Vesely scored 26 and pulled 11 rebounds.
Kenan Sipahi's 22 points and D.J. Strawberry's 20 points were not enough for Besiktas, which fell short in the series finals.