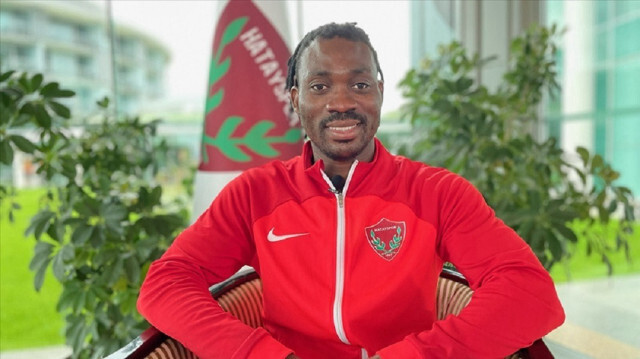 Ghanaian football player Christian Atsu
Ghanaian football player Christian Atsu was found dead on Saturday after going missing in the major twin earthquakes in Türkiye, his agent and club confirmed.
"It is with the heaviest of hearts that I have to announce to all well wishers that sadly Christian Atsu's body was recovered this morning. My deepest condolences go to his family and loved ones. I would like to take this opportunity to thank everyone for their prayers and support," Nana Sechere, an agent for the 31-year-old footballer, stated on Twitter.
"Atsu's lifeless body was found under the rubble," Murat Uzunmehmet, Atsu's Turkish agent, told reporters in the southern province of Hatay, one of the Turkish cities hard hit by the earthquakes last week.
"Currently, more items are still being taken out. His phone was also found," Uzunmehmet added.
Noting that Atsu died while under the rubble, his club Atakas Hatayspor said the player's body was being transferred to his hometown in Ghana. "We will not forget you, Atsu. Peace be upon you, beautiful person. There are no words to describe our sadness. REST in PEACE ATSU."
Ghana's winger Atsu, who last played for Türkiye's Hatayspor, had been missing since the strong earthquakes hit southern Türkiye on Feb. 6.
On Twitter, the Turkish Football Federation (TFF) expressed its condolences to Atsu's family and friends, stating that it was saddened to learn of his death in the disaster.
Several Turkish Super Lig clubs, including Besiktas, Fenerbahce, Galatasaray, and Trabzonspor, also conveyed their condolences on social media.
Atsu, who joined Hatayspor last year, had previously played for several European teams including Everton, Chelsea, and Newcastle United in the English Premier League, as well as Portuguese club Porto.
He was a member of Porto's 2013 Portuguese championship squad.
Atsu also scored 10 goals in 60 caps for Ghana.
More than 39,000 people have been killed by the two strong earthquakes that jolted southern Türkiye, according to official figures.
The 7.7 and 7.6 magnitude quakes were centered in Kahramanmaras province and struck 10 other provinces -- Adana, Adiyaman, Diyarbakir, Hatay, Gaziantep, Malatya, Kilis, Osmaniye, Elazig and Sanliurfa. More than 13 million people have been affected by the devastating quakes.
7 months ago