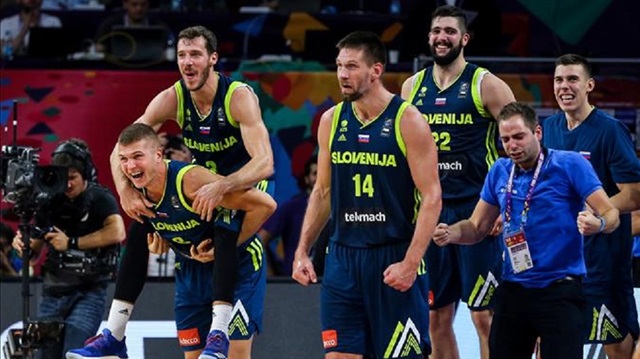 A dominant display in the second half by Slovenia overwhelmed Spain in the EuroBasket 2017 semifinal matchup Thursday night.
Slovenia managed to defeat the Spanish side by 20 points at 92-72 to reach their first ever final in EuroBasket history in Istanbul's Sinan Erdem Dome.
Only down by four points after the first two quarters, Spain could not catch up with Slovenia's attacks.
Slovenia's captain, Goran Dragic, performed an all-around display against the Spaniards, finishing the match with 15 points, 6 rebounds and 5 assists.
Dragic, who plays for the NBA's Miami Heat, will retire from international basketball after the tournament's final.
Also crucial in the victory, 18-year-old talent Luka Doncic, who plays for Real Madrid, managed to rack up 11 points, 12 rebounds and 8 assists.
The Gasol brothers performed well, but their combined 28 points were far from enough to beat Slovenia. Point Guard Ricky Rubio finished 13 points in the losing performance.
With the win, Slovenia, who remains unbeaten in the tournament, celebrates winning all eight of their games.
Serbia will play against Russia in the tournament's other semifinal matchup Friday at 9.30 p.m. (1830GMT).