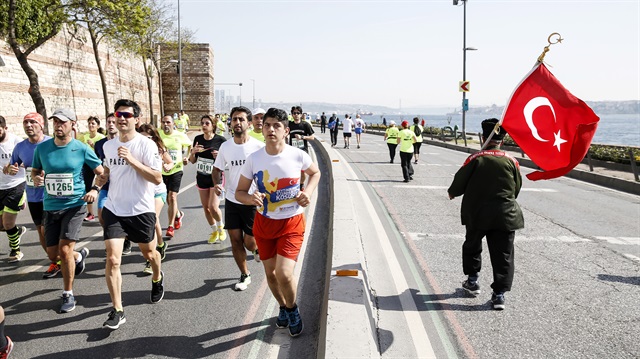 Tens of thousands of people from around the world will take part in the 39th Vodafone Istanbul Marathon on Sunday.
This year's slogan for the world's only transcontinental race from Asia to Europe is: "We are running for the future of our children."
Sunday's marathon will host 86 elite athletes from Kenya, Ethiopia, Namibia, Ukraine, Belarus, Azerbaijan, France, Serbia, Lithuania and Turkey. Thousands of people will also participate in the 42-km (26-mile) run.
The race has four categories: a marathon as well as 15km (9.3-mile), 10km (6.2-mile) and 8km (4.97 mi) events. A race for wheelchair-bound participants will also be held.
The starting point of the marathon will be the Asian side of Istanbul's July 15 Martyrs' Bridge, formerly known as the Bosphorus Bridge. It will end at the historic Sultanahmet Square on the city's European side.
In the men's category, Kenyan runners Paul Lonyangata, Jacob Kendagor and Ezekiel Kemboi Omullo, Ethiopian Bazu Worku and Azerbaijani Evans Kiplagat -- last year's champion -- will be closely watched.
In the women's category, Kenyan athletes Agnes Jeruto Barsosio, Visiline Jepkesho and Letebrhan Haylay, and Ethiopian athlete Meseret Mengistu, are among the favorites.
Vodafone is the main sponsor of the race organized by Istanbul Metropolitan Municipality and Spor Istanbul.