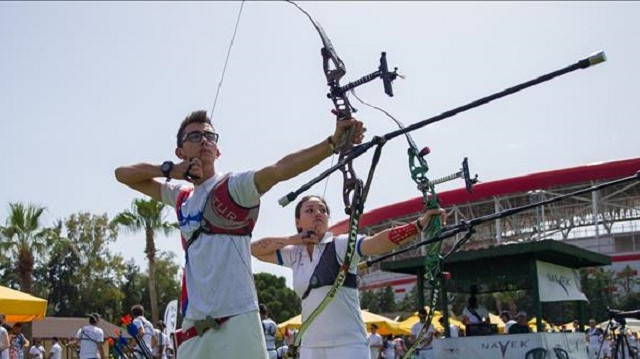 The Turkish national archery team is the big winner of the World Archery Athlete of the Year awards for 2018.
The winners were announced during the 2019 Indoor Archery World Series Finals in Las Vegas on Saturday.
Three Turkish athletes and their coach got awards in five categories out of eight.
Mete Gazoz won the recurve men's athlete of the year award while Yasemin Anagoz received the recurve women's award. Gazoz also received the breakthrough gong.
The para women's award went to Merve Nur Eroglu, while the head coach of Turkish national team Goktug Ergin was named coach of the year.
"Goktug has developed his squad into a consistent contender boasting young star power in 2018 Athlete of the Year winners Mete Gazoz and Yasemin Anagoz," said the foundation.
Last year, Gazoz earned three gold medals at the European Youth Championships and stayed at the top in the 4th leg of the World Cup, Mediterranean Games and the Grand Prix competitions in Europe.
"Since making his Olympic debut in Rio in 2016, Gazoz has gone from strength to strength – but only in 2018 did he make the jump to the international podium and take a position as one of the best recurve men in the world," the foundation described.
Anagoz made a name for herself by winning the gold medal at the European Championships in Legnica, Poland.
"As well as winning the European title in 2018, Anagoz nearly produced the shock of the Hyundai Archery World Cup Final when she surged to the gold medal match – after only being at the event on an invitational ticket – only to lose out to Lee Eun Gyeong."
Eroglu won a second consecutive silver medal at the European Para Championships in the Czech Republic last year.
The winners were announced on Saturday in Los Angels after being decided a combination of a public poll and expert panels, according to the World Archery Foundation.
Nearly 100,000 public votes were cast for the 2018 awards.