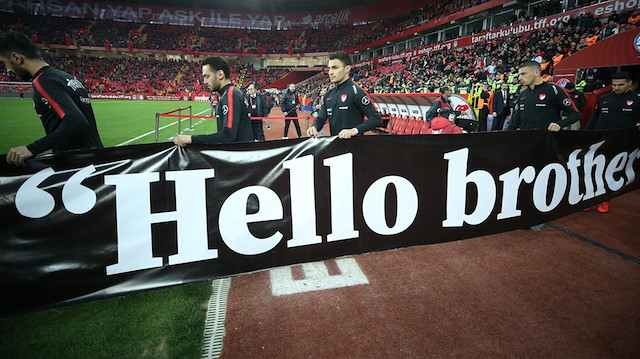 Turkey's national football team on Monday held banners saying "Hello Brother", the final words of a victim of a terror attack on two mosques in New Zealand earlier this month.
The banners were raised in Eskisehir Stadium prior to a match against Moldova for UEFA EURO 2020 qualifiers round.
Also, in a video posted on Instagram, Turkish footballers Emre Belozoglu and Ozan Kabak said: "#HelloBrother for a better world."
At least 50 Muslims were killed and as many injured on March 15 when a terrorist entered the Al Noor and Linwood mosques in Christchurch and shot worshippers in cold blood, including four children younger than 18.
Terror victim Haji Daoud Nabi, a 71-year-old Afghan national, said "Hello Brother" to the gunman -- who massacred dozens of innocent Muslims in al-Noor Mosque -- moments before being shot dead at the entrance of the mosque.
His words resonated on social media with thousands of posts shared with the #HelloBrother.
The terror suspect has been charged for the massacre and is being held at a maximum-security prison in Auckland.
The qualifiers round for UEFA EURO 2020 kicked off last Thursday.
The winners and runners-up from 10 groups will automatically qualify for the UEFA EURO 2020 final tournament.
The EURO 2020 qualifiers will determine 20 teams while four others will qualify from the UEFA Nations League playoffs in March 2020.