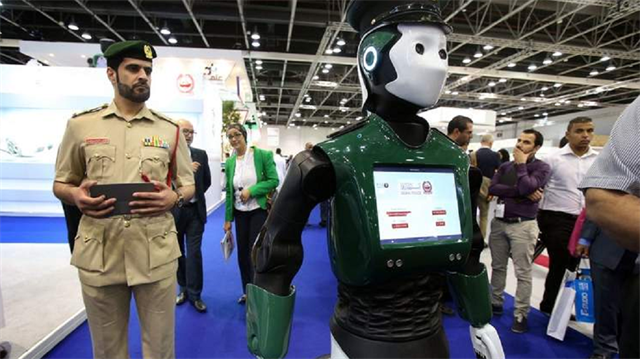 Dubai is set to get its first android police officer and the department has plans for it to go on patrol by May of this year, according to officials.
The latest prototypes of the robot cops, aptly dubbed "Robocop", were unveiled late last year at the Gulf Information Technology Exhibition (GITEX).
The android cop boasts a list of crime fighting features, and members of the public are said to be able to report crimes to the robot using a touchscreen on its chest.
Some robot prototypes, first unveiled last year, featured cameras that enable them to detect humans and objects, reporting anything suspicious to real-life officers.
It can also report firesit might encounter with its built-in fire detector, and is able to automatically return to its charging station when it needs a boost to its battery life of eight hours.
Other features include the ability to speak multiple languages, saluting and shaking people's hands. However, most importantly, people will be able to pay traffic fines and submit paperwork directly to the Robot Cop, through the internet equipped machine mounted on the android.
"The robots will interact directly with people and tourists. They will include an interactive screen and microphone connected to the Dubai Police call centers," an official said at the time the prototypes were unveiled. "People will be able to ask questions and make complaints, but they will also have fun interacting with the robots."
Gitex 2016: Dubai Police Robot to enter service from next year pic.twitter.com/Jl7OuSXcWx

— Dubai Media Office (@DXBMediaOffice) 17 Ekim 2016
The wealthy emirate is planning to gradually increase the number of the newly introduced "Robocop", aiming for the high-tech machine to make up as much as 25% of the force by 2030.
Brigadier Commander Abdullah Bin Sultan, Director of the Future Shaping Centre of Dubai Police, said: "We are looking to have more robots in the future to handle policing.
"We planned for a security system for the future of the city to tackle future crimes. By 2025, Dubai will be one of the best five cities in the world on security level."
Brigadier Commander Khalid Nasser Al Razouqi, General Director of the Smart Services Department at Dubai Police, told news website Gulf News: "We are looking to make everything smart in Dubai Police.
"By 2030, we will have the first smart police station which won't require human employees.
"We are aiming to implement many smart police mechanisms, including the smart police station and robots, and to adopt artificial intelligence."