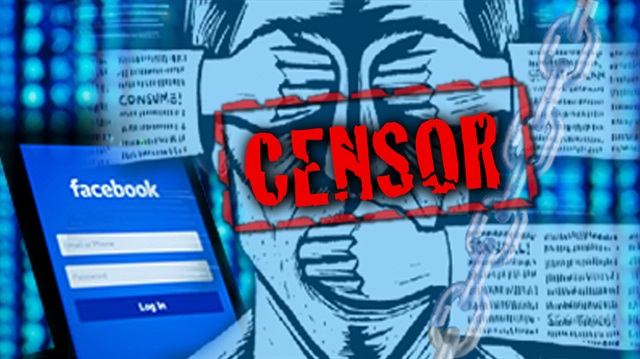 Just as Facebook's editor and directors, who we contacted after the freezing of our accounts on Tuesday, March 15, at 8:30 pm, did not find a solution during the five days that passed since our initial contact, our written applications and phone calls were not heeded either.
The shutting down of Turkey's first verified media page of global status with the highest number of followers is literally censorship.
Cutting access to our pages, which have grown in the last four years within the scope of Facebook's publishing policies and as a result of our professional management to become an independent media power, is a great blow to the freedom of expression of the Turkish press, and its addressee is not only the Yeni Şafak brand, but the Turkish media and community.
Facebook's censorship of Yeni Safak, a tremendous power on social media, which has become the propaganda and manipulation center of social incidents, raises a few questions when approached in view of the latest terror incidents in our country.
Bombs are exploding in Turkey accompanied by multidirectional terror-linked operations. Our country is going through critical times. Facebook, which has approximately 35 million users in Turkey, plays a major role in this process and stands out as one of the simplest tools of communication.
During this period in which our country's unity and integrity are under attack, at Yeni Şafak, which has stood against all these attacks with its editorial and publishing policies for the last 21 years, we are addressing this social media ban in relation to the terror incidents that have taken place.
We are confident that this is an international operation that aims to silence Yeni Şafak on social media, while weakening the local and national stance in Turkish media.
Hence, following the closing down of our pages, PKK-affiliated social media accounts published posts along the lines of, "We were the ones that had Yeni Şafak's accounts closed," declaring that they had a share in the censorship applied by Facebook.
Yeni Şafak is known for publications that keep the community strong during critical times, and wanting to wipe it out of the digital world is a great threat for the Turkish media, too.
This censorship is an indication that Facebook, which shut down Yeni Şafak's news pages without any warning or explanation, may do the same to other media outlets.
We expect our government to take a clear stance against the world-scale silencing targeting the media.
While we, as Yeni Şafak, continue to make our voices heard loud and clear in every platform and reach our news to our readers, we will not give up our fight against this censorship that was put into effect by Facebook at such a critical time, both in local and international legal platforms.
We would like it to be known that media outlets making similar publications are also under threat and will, a while later, have to face the same censorship. Therefore, we are calling all to be responsive, calling all to solidarity and to take a joint stance.
We thank our readers for the thousands of messages we received via telephone and email following the closing down of our pages.
7 yıl önce