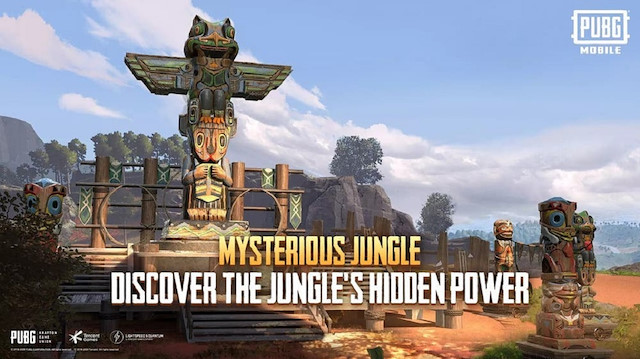 Poster of PUBG Mobile's new 'Mysterious Jungle' mode
Popular game PlayerUnknown's Battlegrounds (PUBG) Mobile's new version outraged Muslim players all over the world over its new 'Idol Worshipping' feature.
As one of the most famous mobile video games in the world, PUBG Mobile boasts almost 750 million active players, 33 millions of whom are in the Muslim world, according to a report by Gulf News.
The Muslim players considered the new feature of the famous war game not only disrespectful to their Islamic faith but also to all other beliefs.
Players took to social media to raise their voices using the hashtag "uninstall PUBG" to protest the game.
The social media outcry against PUBG was also supported by numerous Muslim intellectuals.
"PUBG has violated Islamic beliefs regarding prostration and bowing to idols, and this is the greatest sin in Islam, because prostrating and bowing is worship and glorification solely and exclusively to Almighty Allah. The special draw of gaming that makes [games] the preferred pastime of so many millions of kids and adults is not just entertainment, it is dangerous because it teaches them polytheism, so they prefer it and become addicted to it," Bassam Al-Shatti, a professor at the University of Kuwait, told Gulf News.
"These games are dangerous for Muslims, since they could create generations who do not know Tawhid," said Rashid Al-Alimi, another professor at the University of Kuwait, citing the concept of the oneliness of the creator or the unity of God, which is called Tawhid by Muslims.
"Islam promotes tolerance, balance, equality, consensus, reformism, and all things that take the middle path to materialize the best interest of people. So Sharia (Islamic law) permits games that have a preponderant interest, such as shooting, racing, swimming, and horse riding," said Aref Bin Mazyad Al-Suhaimi, a Saudi Islamic scholar.
In the same vein, a South Korea-based game company previously came under fire for the same reason.
The game, called "Mysterious Jungle," offered an option to "pray" in front of totems for exclusive supplies, drawing outrage from Muslim players for its negative effect on the beliefs of players who largely consisted of Muslim children.
#
PlayerUnknown's Battlegrounds
3 years ago