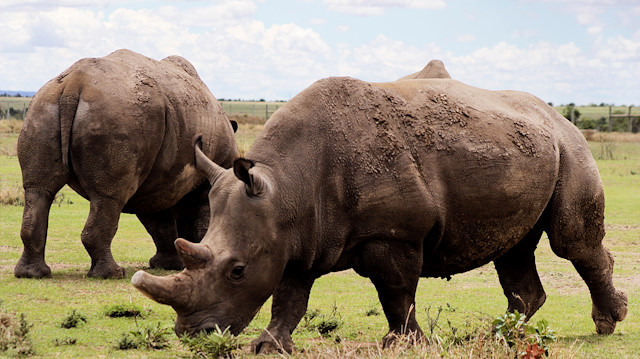 Scientists at the Ol Pejeta Conservancy in Central Kenya on Wednesday, announced creation of two embryos of the rare rhino, raising hopes of saving the nearly extinct species.
Situated on equator, the Conservancy spread over 360 square kilometers, is home to last two northern white rhino or rhinoceros females, left in the world.
The embryos were developed using harvest eggs from two existing females and frozen sperm, collected from four rhino males, before their deaths.
They embryos are stored in liquid nitrogen and will be soon transferred into surrogate mother, said the scientists.
An international consortium of veterinarians and conservationists from Germany, Kenya and the Czech Republic, who were working both at the Conservancy and at the Avantea laboratory in Cremona, Italy, announced that the embryos have successfully matured and fertilized.
A statement issued by the Conservancy, said the first-ever in-vitro embryos will change the fate of the nearly extinct northern white rhino.
Last male northern white rhino named Sudan, died last year in Kenya. There are just two females left, almost now signaling extinction of the species.
Scientists achieved fertilization by using eggs from Fatu, one of the remaining females, the statement said.
"After incubation of 10 eggs that were removed from two females, seven matured and were declared suitable for fertilization. After 10 days of incubation, two of Fatu's eggs developed into viable embryos. They were cryopreserved for future transfer," said Scientist Cesare Galli from the Italy-based Avantea Laboratories.
Another surviving female Najin's eggs did not develop it to a viable embryo," the scientist said.
Cryopreservation is the process of freezing biological material at extreme low temperatures, most commonly in liquid nitrogen.
Scientists now plan to use embryos multiple times to create a herd of northern-white rhinos, which will be reintegrated into the wild.
Some 500 northern white rhinos were roaming in several countries in East and Central Africa, south of Sahara till 1970. Poaching reduced their population to 15 by 1980 and then 32 in 2003. There are now just two females left, both born in captivity.