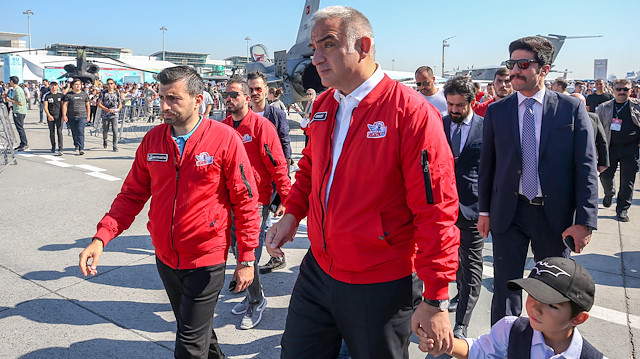 Minister Mehmet Nuri Ersoy
Countries which are not advanced in technology do not have a place in the new world, the Turkish culture and tourism minister said on Wednesday.
Turkey should make children feel accepting of technology and they should be willing to develop technology, Mehmet Nuri Ersoy said during the technology and aerospace fair, Teknofest Istanbul.
"Teknofest has a huge role for this aim, I thank everyone who contributed to this event, especially Selcuk Bayraktar [the chairman of the Turkish Technology Team Foundation]," the minister noted.
He added that the fair should be improved and more international participation should be encouraged.
"I think we can turn the fair into an attraction center of Turkey," he added.
The minister visited the fair on Wednesday and observed the activities and events.
Istanbul Ataturk Airport is hosting the six-day festival, co-organized by the Turkish Technology Team Foundation and the Industry and Technology Ministry. Anadolu Agency is the festival's global communications partner.
The festival will host numerous activities such as aviation shows, seminars, workshops, drone championship, contests, and concerts.
Last year's premier festival, hosted by the new Istanbul Airport, was visited by over half a million people. This year, it is expected to double attendance, attracting a million visitors.
#
Culture and Tourism Minister
il y a 4 ans