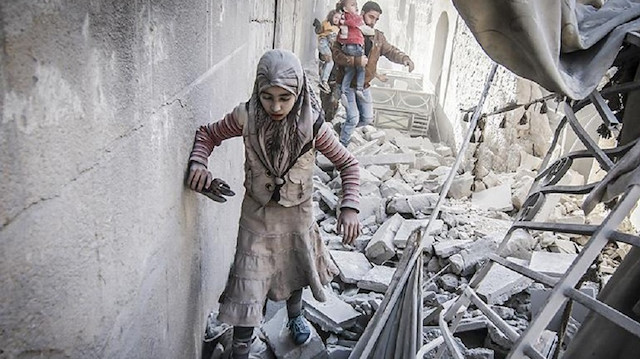 At least 246 civilians were killed in war-torn Syria this February, according to a monthly report by a London-based rights watchdog.
At least 54 children and 50 women were among those killed, said the Syrian Network for Human Rights (SNHR) report released Friday.
The rights group added that 108 civilians, including 31 children and 17 women, were slain in attacks by the Assad regime.
A U.S.-led coalition, meanwhile, cobbled together in 2014 to fight the Daesh terrorist group, was responsible for the death of 17 Syrian civilians, including four children and four women, according to the report.
The group blamed "unidentified parties" for the death of 77 civilians, while Daesh was held responsible for a further 21 civilian deaths.
Also, five medical staff were among the killed, the report said.
A total of 29 people were killed in torture, the report said, adding while the YPG/PKK terrorist group was responsible for the killing of 26 civilians, some other unidentified groups killed the others.
In its 30-year terrorist campaign, the PKK has taken some 40,000 lives, including women and children. The YPG/PKK is its Syrian branch.
The NGO also said that around 7,000 civilians were killed in Syria last year.
Syria has only just begun to emerge from a devastating conflict that began in 2011, when the Bashar al-Assad regime cracked down on demonstrators with unexpected ferocity.