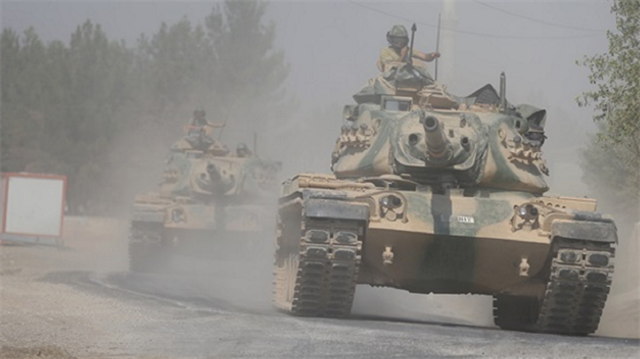 The Turkish military has stated that as many as 32 Turkish villages have been cleared of the terrorists since the beginning of the Euphrates Shield operation, in which Turkey is supporting the Free Syrian Army (FSA) soldiers to clear terrorist elements from northern Syria.
Twenty-five terrorist targets were hit 107 times and four buildings were destroyed in the Zavgar and Kulliyah villages in northern Syria in the last 24 hours alone, the military stated.
Meanwhile, an armored vehicle belonging to the Daesh terrorist group was destroyed during an airstrike against Daesh terrorists in Güzelmezra town.
The military recalled that it took all necessary measures to prevent civilian casualties.
Operation of 'legitimate defense'
The Turkish Armed Forces (TSK) and air forces of the U.S.-led anti-Daesh coalition initiated the operation named "Euphrates Shield" against the terror group on August 24.
Wednesday's reports revealed that FSA took control of the 400-square-kilometer area with a depth of 24 kilometers from the Turkish border after the first week of the Euphrates Shield operation.
With the retaken lands from the terrorists; the gap between Azaz and Jarabulus decreased from 52 to 25 kilometers.
Ankara officials say Turkey is engaged in an act of legitimate self-defense, which is one of the two exceptions to the inviolability of national sovereignty enshrined in the UN Charter. The second is a UN Security Council mandate for military action.
According to Article 51 of Chapter 7, in the case of an armed attack against a member state, that state has the right for self or collective defense until the UN Security Council has taken measures to maintain international peace and security, and no UN article can nullify that inherent right.