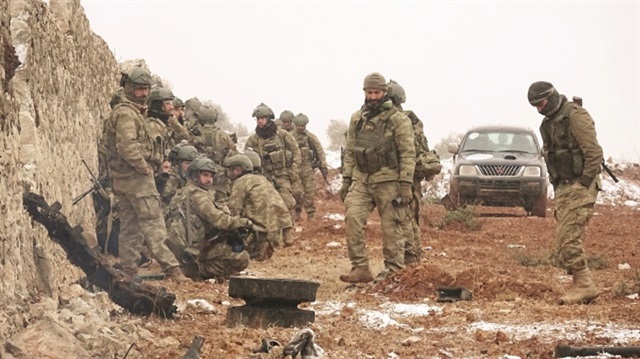 As many as 8,000 Turkish soldiers were deployed for the ongoing Euphrates Shield operation that is being conducted against Daesh in al-Bab district of Syria, after 14 Turkish soldiers were martyred on Akil Mountain.
The Turkish soldiers will launch the operation as Free Syrian Army (FSA) fighters will be assisting forces.
Turkish forces prepared for the operation amid more than a dozen of thunderstorm howitzers and armored infantry carriers along with an amount of military equipment as reinforcement for the operation.
Also, three military bases were built before the attack was initiated.
Turkey's strategy is to isolate al-Bab
The strategy of the new operation that is to be conducted by the Turkish military aims to cut Daesh's links to Raqqa, their de-facto capital, to prevent any reinforcements from reaching the terrorist organization.
Meanwhile, 350 to 500 Daesh terrorists, who were trapped in al-Bab, are attempting to camouflage themselves by letting women and children enter their main headquarters.
Turkish soldiers are taking necessary precautions to prevent Daesh terrorists from attempting to harm the water pipes in order to prevent the passage of the tanks.
On Thursday, Turkish warplanes and artillery have struck Daesh targets in Syria, "neutralizing" 38 of the group's terrorists.
In a round-up of its military operations over the last 24 hours in support of opposition in northern Syria, the army said air strikes by Turkish fighter jets on 104 Daesh targets destroyed shelters, command centers, weapons and vehicles.
Operation enters 136th day
The Euphrates Shield operation was launched between the Turkish Armed Forces and the Free Syrian Army, with the aim to sweep Daesh from Syria, and has been running for 136 days.
The operation has neutralized more than 1,000 terrorists since its launch on August 24.
Also, a 2,000-square-kilometer area has been cleared from terrorists so far.
Since the beginning of the operation more than 2,000 improvised explosive devices and dozens of mines have been destroyed.
قبل٪ s